Hazar Teb Tehran Exhibit Meriden Products
IRAN - Meriden was represented by their distributor Hazar Teb Tehran at the 2nd International Veterinary Poultry Congress on the 20 to February 2010 in Tehran.
Hazar Teb Tehran is one of Meriden's longest standing distributors and the Meriden products, Orego-Stim, Meri-Phyze and Meri-Bond are available throughout Iran via them and their sub-distributors.

The show was a success and there was a lot of interest in all the products from existing and potential new customers. Hazar Teb Tehran is looking forward to strengthening their position within the Iranian Poultry market from the results of this show.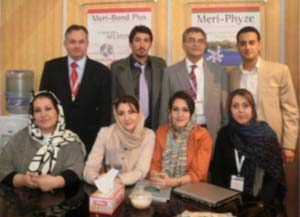 standing, left to right: William Stewart (Meriden), Dr Ali Jamali (Hazar Teb Tehran), Tony Rahbury, Dr Darvish Damavandi
seated, left to right: Mrs Khorshidi (main distributor for Hazar Teb), Dr Arshia Jamali, (Director), Dr Azadeh Jamali (Director), Miss Ahmadvand (Secretary)