International Egg and Poultry Review: US
US - This is a weekly report by the USDA's Agricultural Marketing Service (AMS), looking at international developments concerning the poultry industry. This week's report analyses US shell eggs and egg products exports.
US table egg exports were up 23 per cent in volume for the first two months of 2010, compared to the same period a year ago. For the 2009 calendar year, table egg exports rose 29 per cent over 2008's low figures, when strong egg prices affected exports.

For January-February 2010, exports to Hong Kong rose 5 per cent while exports to Canada fell 10 per cent. Increased exports to the UAE, China, the Bahamas and Israel accounted for much of the increase. Besides the UAE, several other countries that didn't import eggs during January-February 2009 bought eggs this year: Samoa 57,785 dozen; Oman 108,360 dozen; Taiwan 46,439 dozen; Peru 21,621 dozen; French Indian Ocean Territory 4,500; Uruguay 5,076; Panama 3,000 dozen; and Malaysia 34,080. Panama and Malaysia did not import table eggs from the US in calendar year 2009.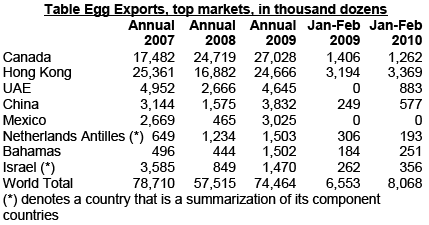 Egg products exports increased 58 per cent for the first two months of 2010 compared to the same period in 2009. Strong demand for dried whole egg accounted for much of the increase; Germany, Canada, the Netherlands, Sweden and Denmark were the top markets. Fresh/frozen/cooked egg white exports were also sharply higher due to strong demand from Canada. For calendar year 2009, egg product exports were up 30 per cent compared to 2008.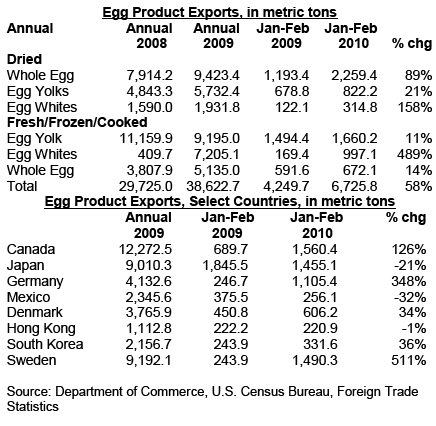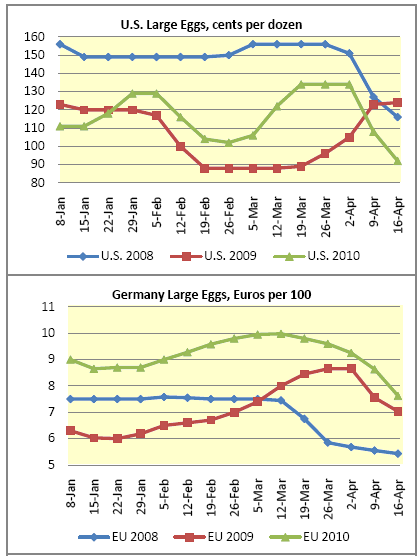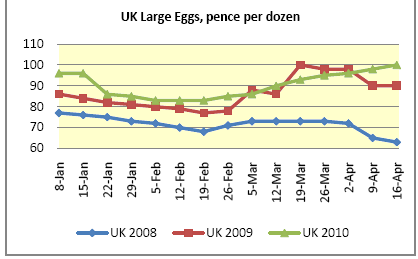 U.S Eggs: Northeast cartoned large white eggs to volume buyers, delivered warehouse, cents per dozen. Source: USDA AMS Poultry Market News & Analysis

UK Eggs: London large eggs, wholesaler prices, pence per dozen. Source: UK Department for Environment Food and Rural Affairs (defra)

German Eggs: Weser-Ems, large white eggs, € per 100 pieces.
Further Reading