Ling Joins Hubbard as China Country Manager
CHINA - Hubbard is very pleased to announce the appointment of Frank Ling as Country Manager for China.
Frank Ling has very long-standing experience in the primary poultry breeding industry. During the last 19 years he has been working for several primary poultry breeding companies in the Chinese market, mainly with responsibilities for Sales & Marketing. In this period, he has been very successful in the introduction of several products, e.g. poultry breeds and incubators, into the Chinese market.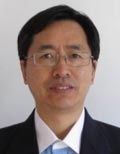 Frank Ling
Mr Ling studied Poultry Production Management at the University of Connecticut (USA), Business Administration at the Shandong Foreign Trade College (China) and received a Master's Degree in Pathological Immunology in 1985 at the University of Agriculture and Animal Science, Changchun in China.

David Fyfe, Hubbard Business Director for Asia, commented: "I am very happy with Frank joining us, as he has an in-depth knowledge of the Chinese poultry market. He is well respected by industry professionals and will be a very good asset to the Hubbard company in the further development of our business in this very important and one of the largest broiler markets in the world."

Mr Ling joined Hubbard on 1 March 2010 and reports directly to Mr Fyfe.