Major New Cobb Production Complex in Tennessee
US - A $14 million investment by Cobb in a new production facility, including hatchery and quality assurance complex, is now starting to take shape at Lafayette in Macon County, Tennessee.
Site preparation work has begun signalling the start of the construction phase, which is scheduled for completion in April 2011. The new hatchery/QA facility will incorporate all the up-to-date technology and be supplied by a network of 27 breeder farms currently under various stages of negotiation and construction with local farmers.

Cobb researched several rural locations in the US before settling on North Central Tennessee as the preferred area, key several criteria such as isolation from other poultry, good accessibility to a major airport, available workforce and a community based in agriculture for the new project. The Cobb production complex will create over 70 new jobs for the residents of the surrounding area.

Cobb worked closely with the Tennessee Economic and Community Development Group (TECD) in obtaining the support of county and city officials for the hatchery/QA facility and network of rearing and production farms in the surrounding countryside.

Dave Juenger, Cobb corporate services director, said: "Right from the start, communication and coordination with local officials was encouraging. Response times, support and identification of mutual goals to create long-term benefits for both the county and Cobb were evident."

After city and county officials and state economic development groups toured the Cobb production facility at Monticello, Kentucky, discussions focused on particular locations to satisfy the key business requirements. A 10-acre (four-hectare) site in the city's industrial park was selected for the hatchery and QA facility, and with approval of over $500,000 in state funding in January, the partnership between Cobb and the City of Lafayette was born.

J.Y. Carter, Mayor of Lafayette, described the relationship with Cobb as very positive. He said: "We look forward to the jobs coming into town. Once we saw Cobb was interested in us, we got interested in Cobb and strived to facilitate their move into the city at every corner we encountered."

Shelvy Linville, Mayor of Macon County, commented: "I am anxious for Cobb to get the hatchery and QA facility built for two reasons. It will create much needed jobs for Macon County citizens and secondly put to rest the negative speculation surrounding this project by showing people what Cobb and the business is really about. Cobb is going to be good for our retailers and add to the economic activity of the county."

Cobb has opened an office there and moved the new complex manager, Randy Yates to the region, with Keith Harper appointed hatchery manager. Randy Yates moved his family a year ago and is responsible for overseeing construction and the management of the hatchery facility, and getting the 27 new, two-house farms built by local farmers over the next three years.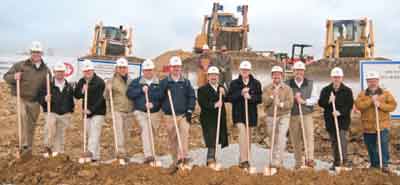 Lending a hand – left to right: Aldo Rossi, Randy Yates, David Mears, Rami Mishu, Keith Harper, Ben Green, Bob Bibb, J.Y. Carter, Stan Reid, Dave Juenger, Don Rigsby, David Keller.