Turkish Industry Senior Advisor Retires
TURKEY - Sukru Kaleli, former General Coordinator of Ross Breeders Anadolu, has announced his retirement from the poultry industry after 25 years working with Ross products. He will formally retire at the end of April.
Mr Kaleli was instrumental in developing the poultry business in Turkey and the establishment of Ross Breeders Anadolu. He is also a founding member of BESD-BIR, the Turkish Poultry Association.

He graduated in agriculture from the University of Ankara and held a number of positions before moving into the poultry industry in 1985 as the General Manager of the Marketing Company of Köy-Tür Holding. After 10 years at Köy-Tür, marketing Ross PM3 Parent Stock (PS) chicks, Mr Kaleli officially joined Ross Breeders Ltd in 1995 as the company's representative in Turkey.

Mr Kaleli introduced the Ross 308 to the Turkish industry and helped expand the business's market share to 40 per cent by 1999, following excellent product performance and high levels of internal investment.

Further investment in the industry was needed and in 1999, Mr Kaleli oversaw the creation of Ross Breeders Anadolu, a joint venture between Aviagen and Supreme Foods, Saudi Arabia, and the building of a new hatchery to deliver PS chicks direct to customers and ensure security of supply.

This continued with the creation of the Ross Haymana and Ross Ankara Grand Parent (GP) operations and the building of three more farms, which meant that 75 per cent of the breeding eggs needed by the company could be sourced from Turkish farms.

Tom Exley, Aviagen's VP of International Business, said: "Everyone who has met Sukru will know what a great ambassador he has been for the industry and Ross products in particular. When Sukru started working with Ross Breeders, the industry was still fairly small and relied heavily on imported eggs for breeding.

"Sukru assisted in revolutionising the Turkish poultry market, ensuring security of supply for the country and dramatically improving product quality thanks to improvements in local supplies and facilities.

"He has led a lot of investment within Turkey and this has been reflected in the success of the Ross products and the companies he has been involved with. We wish him every happiness in his retirement."

A retirement party was held for Mr Kaleli at Hotel Les Ottomans, the top boutique hotel at the Bosphorus. Friends, colleagues and industry representatives were in attendance with Randall Ennis, Tom Exley and Chris Lea joining from Aviagen. Husnee Jazeel and Sean Holder joined from Supreme Foods, along with many of the owners and top managers of Turkish Broiler Industry companies.

Mr Kaleli said: "I have always been proud of being a member of the Ross and Aviagen family, which has always adhered to the principles of honesty and fairness that I strongly believe in."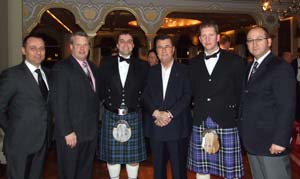 Mr Kaleli'a retirement event: he is pictured between Chris Lea and Tom Exley from Aviagen