Use of Antibiotics for Livestock Steady
EU - The annual MARAN report, published in early April, indicates that the use of antibiotics on farm animals in the Netherlands decreased in 2008 for the first time after several years of increasing use.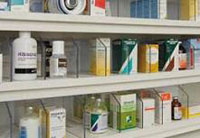 Photo: LEI
An international comparison shows that in most European countries studied, sales of antibiotics in 2008 were at about the same level as in 2007. However, in Norway, France and the Netherlands, sales of antibiotics were down by more than five per cent in the same period.

Survey figures on use of antibiotics in specific animal species in the Netherlands are more varied. These figures show a tendency towards increased use on fattening pigs, broilers and dairy cattle but a drop in use on sows, piglets and veal calves.

The levels of antimicrobial resistance in bacteria from the most important food-producing animals in the Netherlands (cattle, pigs, and broilers) changed very little in 2008. However, there was an increase in ciprofloxacin resistance in both E. coli from the intestines of broilers and Campylobacter from both broilers and humans. As in previous years, the highest levels of resistance were observed in broilers. This indicates that broilers offer optimum conditions for the selection and distribution of resistant bacteria.

Extended Spectrum Beta-lactamase (ESBL)-producing E. coli bacteria are often present in the faeces of these animals and in poultry meat. In addition, the transfer of ESBLs to Salmonella has been observed in poultry. ESBL-producing E. coli isolates were also observed in all other species but at a low level.
Further Reading