Arkansas Honours Cobb-Vantress for Export Success
US - Cobb-Vantress Inc is one of four Arkansas companies honored this week in receiving the Governor's Award for Excellence in Global Trade at a luncheon at the Governor's Mansion in Little Rock in recognition of their success in developing international markets.
Arkansas is at a crossroads with respect to its place in the world economy, said governor Mike Beebe. The companies receiving the award should be an example for others to emulate, "thereby creating more jobs for Arkansans, more net worth and net wealth for Arkansas."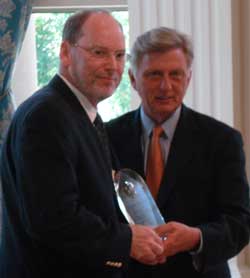 above: Jerry Moye (left, president of Cobb-Vantress) receiving the award from the Governor of Arkansas, Mike Beebe
below: from left to right: Sangthong Varatthapol (Asia sales representative), Mark Glavey (Asia Sales Director), Misty Pollet (World Pureline Coordinator), Jennifer McCreery (Export Agent), Denny Chan (Sales Manager China) and Steve Iseler (Director Production Planning)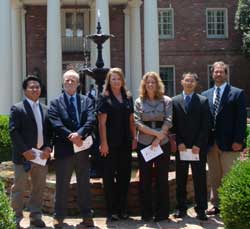 Arkansas companies exported $5.3 billion in goods in 2009, up from $3.9 billion in 2005.

Cobb-Vantress Inc, which received the large agribusiness award, sells poultry breeding stock in 84 countries. In 2009, exports accounted for 17.1 per cent of US sales, said Brian Cosgriff, the company's marketing director.

The other winners were AmerCable Inc of El Dorado, which manufactures cables used in the mining, oil and gas, and energy sectors; Weldon, Williams and Lick Inc. of Fort Smith which exports tickets, passes and credentials to 66 countries, and Keith Smith Company Inc of Hot Springs, which sells broiler hatching eggs to 11 countries including Russia.

Just one per cent of US companies currently export their goods and of those, most export to just one country, said Courtney Gregorie, the director of the National Export Initiative of the US Department of Commerce. The organization was created in March and aims to double US exports in five years.

Arkansas District Export Council selected the award winners based on their export sales numbers and growth in international markets, as well as the number of jobs created or saved by their exports.