Ceva Opens New Vaccine Facility
HUNGARY - Ceva celebrated its tenth anniversary with the opening of a new bacterial vaccine facility at its European biological centre of expertise.
Ceva Phylaxia, the home of a stream of world-famous scientists from Aujeszky to Marek, revealed the latest in a long series of recent investments with the opening of a new bacterial vaccine plant, the latter investment being supported by the Hungarian state.

More than 600 invited guests including René Roudaut (French Ambassador), László Varjú (State Secretary responsible for development issues in the Ministry of National Development and Economy), Dr. Bognár Lajos (Deputy CEO - Central Agriculture Office), Lajos Verbai (Major of the 10th district), Csaba Kilián (CEO – ITD Hungary Zrt.) were present at the ceremony.

The new facility will produce innovative aerobic and anaerobic new bacterial vaccines for Ceva's growing global demand. The €8.5 million plant takes combined investment in the Budapest campus to more than €28 million since the programme began in 2002.

At the opening of the plant, Dr Arnaud Bourgeois, Ceva's Global Head of Biology, said: "The Phylaxia company was founded in 1912 – almost 100 years ago, making it one of the oldest vaccines company in the world. Ceva is proud to have inherited this scientific tradition, which since the outset, has been based on the simple premise of closely associating high quality science, through production to the needs of our customers, veterinarians and livestock owners. Today, any company to remain competitive needs constant investment and our programme of continual improvement in both the physical plant and human resources will ensure that the Phylaxia campus remains at the centre of our global biologicals network."

Ceva-Phylaxia currently employs 330 people with an R&D team of over 90 people. Ninety per cent of the Company's production is exported to countries throughout the world.

Ceva is now the number 1 global producer of vaccines against the Gumboro poultry disease (and worldwide number 3 for poultry vaccines), with its innovative immune complex vaccine Transmune® IBD, achieving leadership in many important markets.

Thierry le Flohic, General Manager, Ceva-Phylaxia commented: "Everyone working here at Ceva-Phylaxia cannot fail to be influenced by the feeling of belonging to a long history. But we now have a new generation of young researchers who given the recent investment in the site, are continuing to add real value to our global biologicals programme, Transmune IBD, our immune complex vaccine is a great example."

The Budapest site also produces Coxevac® – Ceva's breakthrough vaccine for the control of Q-fever, a zoonotic disease that has recently caused much concern throughout the European Union, with a serious outbreak of the disease in the Netherlands during 2009.

Coxevac is a phase 1 coxiella vaccine developed by a team of scientists led by Dr Benauda Kadra, Bacteriological Development Director at Ceva-Phylaxia. Both the French and Dutch authorities granted temporary licences to allow emergency use of the vaccine, which is currently undergoing registration throughout the EU with a full licence expected to be granted during 2010.

Marc Prikazsky, President and CEO of CEVA Santé Animale, said: "Seventy-five per cent of the world's emerging diseases are of animal origin. Since it produced its first serum to protect against swine fever, Phylaxia has understood that to protect the human population, we need to in the first place protect our animals.

"We are very proud to be able to continue to invent new products, such as Coxevac, which will be used as part of preventative programmes and demonstrate our commitment to the 'One Health' initiative."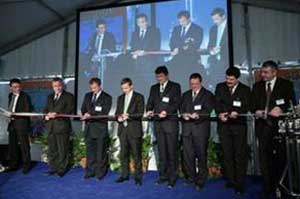 Ribbon-cutting ceremony