CME: 2010 Corn Planting Substantially Complete
US - USDA's weekly Crop Progress report indicates that 2010 corn planting is substantially complete as of Saturday with 93 per cent of intended acres planted, write Steve Meyer and Len Steiner.
That figure rivals the 2005 planting clip as of this week (95 per cent) for the fastest ever but the bulk of this year's acres were planted earlier than those of 2005, driving high expectations for 2010 yields. As can be seen, this year's pace is far ahead of 2009 when just over 60 per cent of corn acres had been planted by this date. While yields were record-large last year, late planting and cool summer weather negatively impacted the quality of last year's corn crop and the performance of livestock this crop year.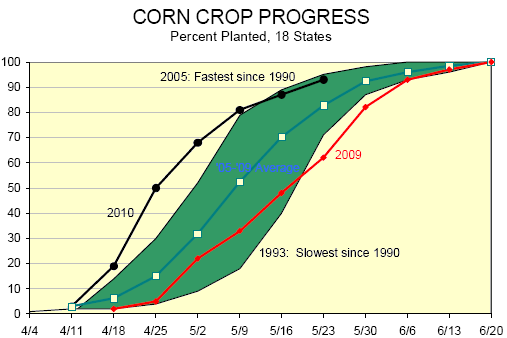 Though corn planting was the fastest ever this year, corn emergence is still lagging the best-ever pace of 2000. As of May 23, 71 per cent of corn had emerged. That compares with 30 per cent last year, a computed five-year average of 51 per cent and USDA's published five-year average of 62 per cent. The linear increases of 16 per cent per week over the past two weeks underscore the impact of cool, overcast, generally rainy weather in many major corn growing regions.

The recent weather pattern has kept corn crop condition ratings near historical levels in spite of the record planting pace. 71 per cent of corn acres were rated good or excellent this week, up from 67 per cent last week. There was no rating for corn in last year's concurrent week. This week's 71 per cent good-excellent tied for fourth in the historical data with 1994's 78 per cent being the highest on record.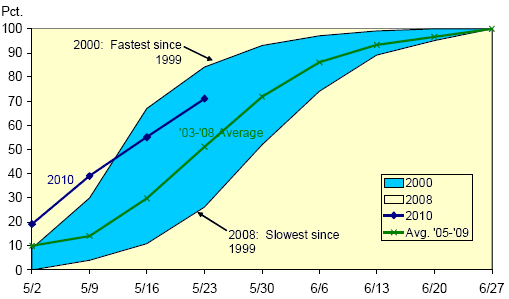 Soybean planting is progressing at a far slower pace due to continuing wet weather in many areas. Only 15 per cent of total acres were planted last week, bringing the season-to-date total to 53 per cent. That compares to 48 per cent for the same week last year and a computed average of 66 per cent over the past five years, and 24 per cent of soybeans had emerged as of Saturday. That number is sharply higher than last year's 14 per cent but lower than the computed five-year average of 27.2 per cent.

It is safe to say that the 2010 crop is progressing well at this point. Slower-than-average soybean planting poses little problem — at this point in time.

DLR readers are reminded of CME Group's webinar regarding dried distillers' grains (DDGs) coming up on 26 May at 2:00 p.m. CDT. Readers can attend the session in-person at the Visito Center Auditorium at 141 W. Jackson St. or tune in on the internet by registering at www.cmegroup. com/ ddgwebinar. DLR author, Dr Steve Meyer, will be joined by Dr Darrell Mark of the University of Nebrasks to discuss the production, characteristics and uses of DDGs as well as the performance and costs impacts they have on livestock production.

For those who may not be familiar with DDGs — they are a primary co-product of ethanol production. Each bushel of corn that is fermented produces roughly 2.8 gallons of ethanol, 17 pounds of DDGs and 17-19 pounds of carbon dioxide. The trade of 56 pounds of corn for 17 pounds of DDGs is not necessarily a good one for the livestock and poultry sectors but that 17 pounds of usable feed ingredients has helped reduce diet costs from where they would have been had DDGs not been available. Since ethanol production converts the starch in corn into ethanol and carbon dioxide, DDGs are high in protein, fibre, fat and minerals. They still have a relatively high dietary energy content but that energy comes from fat instead of starch. Cattle and other ruminants can use the fiber and low-quality protein very efficiently. They can be added to hog and poultry rations but their relatively low-quality protein limits their usefulness to some degree. Tune in to learn more.