Hungarian Seminar Draws Large Crowd
HUNGARY - Around 40 parent stock and broiler farmers from across Hungary attended an Aviagen seminar in Herceghalom recently.
Attendees came to hear ideas and debate new approaches on key topics to ensure performance is maximised through all generations: vaccination methods, bird rearing and performance management, hatchery monitoring and brooding.

Neil Clark, Technical Service Manager for Eastern Europe, said: "The Hungarian market is extremely important to our business in the region. This seminar was organised by the local team at Aviagen Kft to provide our valuable customers with technical advice. Overall, Aviagen's technical support has become a crucial part of the poultry industry. Our Hungarian seminar is no different – it was attended by nearly 40 delegates representing practically the entire Hungarian market – and the event was a huge success."

Firstly Balázs Takács, Sales Director welcomed the guests and opened the event with a speech.

Ákos Klausz, Technical Veterinary Manager, talked to delegates about vaccination methods with a focus on ensuring vaccines are handled and administered correctly to ensure maximum protection.

Danny Rotherham, Technical Service Manager, discussed how to manage the critical control points during the rearing period of a bird's life in order to allow maximum performance during the production period.

Tímea Torma, Incubation Manager, then spoke about the importance of monitoring programmes in the hatchery, with a clear focus on egg handling and storage.

Neil Clark, in his presentation, talked about the brooding period in the broiler life and how to create the optimum conditions in a broiler facility to ensure returns are maximised.

Finally, László Korös concluded the seminar by emphasizing the key points of the presentations.

Zoltán Kiss, Director of the poultry division at Nagisz Zrt, one of Aviagen's Hungarian customers, said: "I would like to say 'thank you' on behalf of myself and my colleagues for the invitation to this nice and well organised event. The way the topics were built up was very good, the presentations covered the main sections of the whole broiler breeding process (rearing and laying of breeders, hatching, broiler production and bird health), so every specialist from the different areas got involved. As a result I think all the attendees got a lot of very useful information from the speakers.

"All the presentations focussed on the key areas which could determine the success of a flock. Sometimes it is important to look at the entire process from start to finish as important details can be missed during the daily rush, with the checklist it easier to identify areas of good management and areas where improvement is needed. Furthermore it is always a pleasure to escape from the daily routine to spend good time with fellow colleagues from other companies."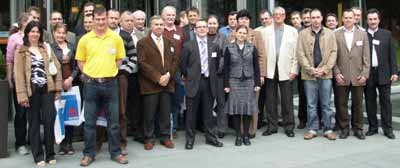 Attendees at the seminar in Hungary