International Egg and Poultry Review: China
CHINA - This is a weekly report by the USDA's Agricultural Marketing Service (AMS), looking at international developments concerning the poultry industry. This week's report focuses on China's egg industry.
China is by far the largest egg producer in the world, producing 26.6 million metric tons (MMT) in 2009. Chinese egg production is forecast to reach 27.1 MMT in 2010, up 1.88 per cent from 2009. The increase in production is due to a strengthening world economy combined with rising export demand. Egg consumption has grown from 12.8 kg/person/year in 1995 to 20.0 kg/person/year in 2005, an annual growth rate of 4.7 per cent.

Egg production dropped 1.5 per cent to 26.6 MMT in 2009 due to oversupply and falling prices. A new policy of subsidising imported grand-parent generation (GPG) breeding stocks started in 2008. One set (120 birds) of GPG breeding egg layers were subsidised RMB100 ($14.64), resulting in large imports. The policy was eliminated in the second half of 2009 due to oversupply. China's largest domestic GPG grower of western breeds increased its own production; in 2009 this company alone provided 100 million commercial egg layers. The oversupply combined with decreased consumption pushed egg prices lower, driving producers to slaughter many egg layers as feed prices increased during the year.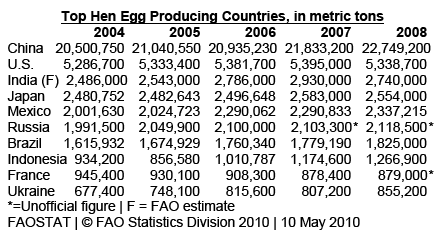 Disease outbreaks in 2009 also impacted egg layer production. Outbreaks of J-ALV (avian leukosis virus) occurred in several provinces. Although not serious, the outbreaks pushed some smaller backyard operators out of the egg business.

China is a net exporting country; Hong Kong and Macau will continue to be China's main export markets for shelled eggs in 2010. At the end of last year, the EU announced their 2009/799/EC decision to lift its ban on Chinese eggs and egg products which had been imposed in 2001 due to food safety concerns.

Source: USDA Foreign Agricultural Service; 2009 FAO report "The State of Food and Agriculture, Livestock in the Balance".
Data Source: Department of Commerce, US Census Bureau, Foreign Trade Statistics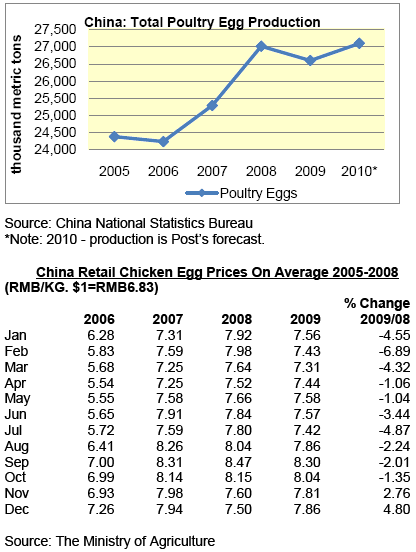 Further Reading