New Ross GP Project in Poland Announced
POLAND - Aviagen EPI is delighted to announce the signing of an agreement of cooperation with BroMargo, a leading Polish private poultry integration, on a grandparent (GP) project in Poland.
The agreement will see the construction of state-of-the-art GP facilities, including rearing and laying farms, located near Poznan in western Poland. Construction has already begun and the first placement of Ross chicks is scheduled for the beginning of 2011.

The contract signing took place on 18 May 2010 at Aviagen's Hilbersdorf Hatchery, following a tour of the company's flagship European facility and was attended by BroMargo owners, Marek Stachowiak and Michal Schweiger, Managing Director Jacek Beutler and Maciej Kolanczyk, Bromargo's poultry consultant, as well as Patrick Claeys, General Manager Aviagen EPI, Dariusz Kulik, General Sales Manager for Aviagen EPI in Poland and Zbigniew Przybylski, Technical Manager in Poland.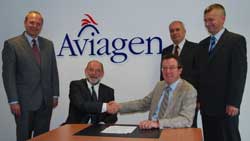 Contract signing on 18 May 2010: seated: Marek Stachowiak (left) and Patrick Claeys (right); standing (left to right): Jacek Beutler, Michal Schweiger and Dariusz Kulik
Mr Claeys said: "This is an historic day for both companies. We are proud to be able to announce this partnership with BroMargo, one of Poland's most respected poultry producers. We have a long-standing relationship with BroMargo, based on mutual trust, respect and loyalty and therefore they were an obvious choice when we were looking for a partner for this venture. BroMargo have a highly-skilled and experienced management team and have a proven track-record of successfully managing Ross stock.

"After a difficult period, the industry here in Poland is really expanding and this new farm will help us provide our customers with first class products and provide real security of supply to the market."

Mr Stachowiak commented: "Our philosophy is based on the assumption that a company does as well as its flocks, placing a high importance on bird management, biosecurity, monitoring and data collection. But above all the business has a huge respect for animals and nature, which is something Aviagen shares. We are delighted to have secured this contract and look forward to developing an even closer partnership with Aviagen."

Mr Kulik added: "The location of the GP project is perfect and meets our stringent biosecurity standards. Another vital factor is its proximity to our Hilbersdorf hatchery in eastern Germany. Secure supply, chick quality and being close to our customers is the number one priority for Aviagen."