Workshop Hears Reduced Salmonella Has Not Lowered Illness
US - Following the recent announcement from the USDA Food Safety and Inspection Service (FSIS) tightening performance standards, a processors' workshop was told that reduced Salmonella on poultry has not lowered human illness.
Dr Daniel Engeljohn, FSIS Deputy Administrator in the Office of Policy and Program Development, reviewed the agency's new lower Salmonella performance standards at US Poultry & Egg Association's 2010 Poultry Processor Workshop. He began by emphasising that "Human health is our primary objective, although we've gone in the opposite direction." He acknowledged that data showing that human Salmonellosis cases have actually increased in recent years while the presence of Salmonella on raw poultry has decreased. He said that the Obama administration is "focused on improving the food safety system".

Dr Engeljohn summarised the new performance standards for plant management attending the conference and indicated that "most of the poultry industry would already be in compliance."

Highlights included:
Salmonella:

Chicken carcasses, post chill: 7.5 per cent (82 per cent of the industry would meet)
Turkey carcasses, post chill: 1.7 per cent (82 per cent of the industry would meet)

Campylobacter:

Chicken carcasses, post chill: 10.4 per cent for 1-ml portion, and 46.4 per cent for a combination of 1-ml and 30-ml portions (75 per cent of the industry would meet)
Turkey carcasses, post chill: 1.1 per cent for any combination of 1-ml or 24-ml portions (81 per cent of industry would meet)
The new performance standards were scheduled to be published in the Federal Register on 14 May, with a 60-day comment period. A complete copy of the standards is available on the FSIS web site [click here].

Dr Mark Lobstein of the USA Poultry & Egg Export Council (USAPEEC), presented a status report on export markets. Focusing on Russia and China, he said: "The handwriting is on the wall: exports are declining. We have not shipped poultry to Russia this year. They say it's about chlorine, but look at us and our consumption of chicken and our good health. It's not about chlorine; it's politics."

Dr Lobstein said that the big potential for poultry exports lies in China and India.

He said: "There are some current issues with China but I believe negotiation is possible. Let's work on those markets."

The programme also addressed other important processing topics such as new processing technology, antimicrobial interventions, rapid micro-testing, the changing culture in the workforce, and the new era of OSHA enforcement.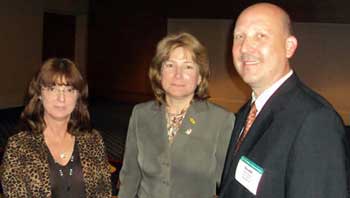 left to right: moderator Dr Marty Ewing (Sanderson Farms) with speakers Dr Alice Johnson (Butterball LLC) who examined the FSIS Salmonella Initiative Program, and Scott Stillwell (Tyson Foods) who discussed his company's Salmonella intervention programme.
Further Reading