CME: Impact of Chicken Bans in Key Export Markets
US - Livestock futures built on Monday's gains and were higher both in the cattle and hog complex, with only deferred hog futures posting some modest loses, write Steve Meyer and Len Steiner.
Promotions for the upcoming Father's Day weekend (20 June) will once again take center stage as market participants look to gauge retail demand. While there used to be a gap in meat sales between Memorial Day and Independence day, leave it to marketers to try and given people a reason to spend and Father's Day weekend is quickly gaining ground as an important meat consumption date. But while sales over this weekend will be closely watched, even more important for the market is the outlook for meat consumption patterns for the remainder of the summer.

Supplies of beef and pork are generally lower than what they were a year ago and a somewhat more stable economic outlook should remain supportive of prices going forward. What should, and likely does worry beef and pork producers at this point is the outlook for chicken supplies and the effect that ongoing bans of US chicken in key export markets will have on the entire meat complex.

US chicken exports to Russia in March and April (latest available data) were non existent while exports to China, a growing market, were down 96 per cent from year ago levels. To put this in perspective, in 2009, combined US chicken exports to these two markets accounted for 34 per cent of overall US chicken exports. So far, however, the chicken industry has been able to navigate the crisis with relatively minimal damage. Chicken exports in April were down only 1.3 per cent compared to a year ago. The cumulative shortfall in chicken export sales during the first four months of the year was 272 million pounds or 12 per cent lower than a year ago.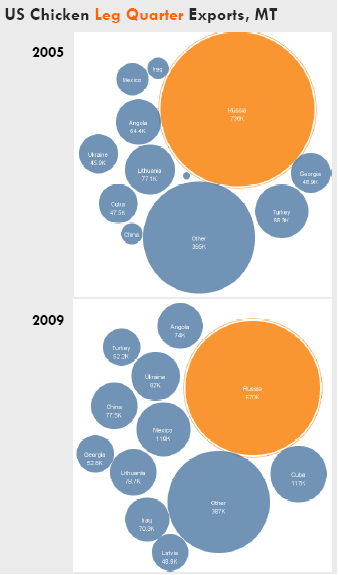 A number of factors have provided some support for the US broiler market... so far. High global meat protein prices have caused international buyers to flock to the US market, pun intended. Chicken leg quarters, the ubiquitous symbol of US chicken exports, are now going to a multitude of other markets. Even before the current embargo of US chicken products by Russia, US producers had diversified away from that market, with other markets accounting for all the growth in US leg quarter shipments.

Today, that trend is even more pronounced. Also important for the market is the continuing growth in US domestic sales of chicken dark meats. The US population today is more diverse than even 10 years ago, which has meant a shift in eating preferences. US consumers also appear to be more sophisticated in their chicken consumption, trying to balance health concerns (chicken breast was the mantra of low fat in the 80s and 90s) with flavor. For the moment, the chicken export situation is a concern but it is not yet the crisis that many feared. Broiler producer margins remain good, which means higher broiler production. Combined with lower exports, however, it could prove problematic for beef and pork prices later this summer and into the fall.