Feed is Key to Broiler Profitability
BOSNIA & HERZEGOVINA - The key message of a recent Cobb seminar with Iradia is that feed is key to broiler profitability.
More than 100 people attended the annual Cobb seminar for the region of former Yugoslavia held in Etno-village Stanisic, Bijeljina, near the Bosnian border with Serbia and Croatia.

Jasmina Atlic, owner of Cobb Germany's distributor Iradia, welcomed all guests introducing James Truscott, director of Cobb Germany, who emphasised the significance of adjusted management and feed programmes for the Cobb 500. The cheaper, lower nutrient density feed recommended for Cobb broilers has a greater influence on profitability than a lower feed conversion, he said.

He explained: "The rapidly growing sales all over our market area reflect the growing popularity of the Cobb 500 worldwide. These increasing orders are causing us to expand our production significantly."

Ermin Grbic, technical manager of Iradia, spoke about the main guidelines for determining feed amounts for Cobb 500 breeders, using examples from some very successful local farmers also present.

Another speaker, Sinisa Kljajic, a self-employed veterinarian, dealt with the subject of transferring breeders from rearing to production farms, introducing males and the beginning of light stimulation – some of the most crucial moments for successful egg production, he stated.

Matthias Todte, veterinarian of laboratory MMT Tierarztpraxis, spoke about infectious bronchitis and mycoplasmosis, and the most advanced means of fighting these diseases, while Dr Abdulah Gagic, professor from the Veterinary Faculty in Sarajevo, described the current market difficulties as both a mutual challenge and an opportunity for all participants from all three countries.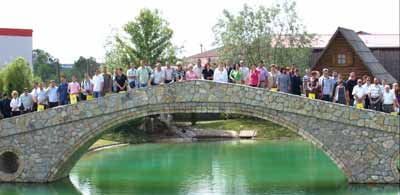 Delegates in Stanisic, Bijeljina