International Egg and Poultry Review: US
US - This is a weekly report by the USDA's Agricultural Marketing Service (AMS), looking at international developments concerning the poultry industry. This week's report focuses on US paw and feet exports.
The US shipped a total of 91,564 MT of paws and feet from January to April in 2010, which is about 30 per cent lower than a year ago at this time. Typically the US ships most of its chicken paws and feet to China and Hong Kong, which comprised about 98 per cent of total US paw and feet exports in 2009.

In the first four months of 2010, the US shipped about 91 per cent of its paw and feet exports to Hong Kong and China compared with 97 per cent in 2009 (-6 per cent). Over this period, US paw and feet exports increased to Hong Kong (+338.4 per cent), Viet Nam (+216.4 per cent), Philippines (+12.6 per cent), Japan (+67.0 per cent), and to the Leeward-Windward Islands (+472.4 per cent) from a year ago.

Most of the changes can be attributed to ongoing issues between the US and China stemming back to Section 272 of the US Omnibus Appropriations Act of 2009, which prohibited the use of funds to establish or implement any US measures that would allow imports of poultry products from China, as well as other issues relating to the value of the Chinese Yuan, accusations of protectionism, US duties levied on Chinese-made low-end tires, steel pipes, movies, and books.

Back in February, China imposed preliminary import duties on US poultry effective 13 February 2010. A list of 35 exporters was released citing varying duties with some unlisted companies paying as high as 105.4 per cent. On 28 April 2010 China levied an additional anti-subsidy duty of 31.4 per cent on some poultry products on top of the anti-dumping duties from February. Many typically revert to sending product to China through gray channels (e.g. Hong Kong, Viet Nam, etc.) during such times until it becomes prohibitory or unprofitable. Now many wait to see how the US will respond to the World Trade Organisation's (WTO) recent ruling, which was in China's favor, regarding China's anti-dumping case against the US filed 17 April 2009.

Source: Department of Commerce, US Census Bureau, Foreign Trade Statistics/USDA FAS/World Trade Organisation/news wires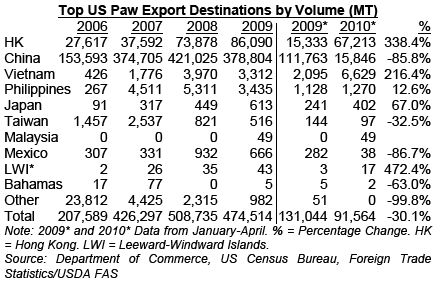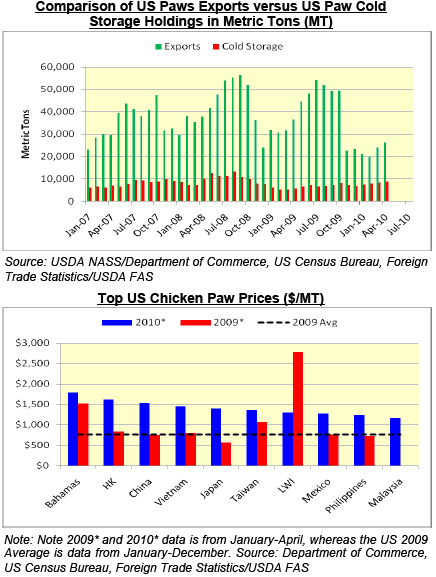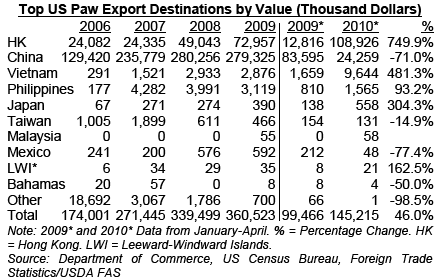 Percentage of US Paw Exports by Volume

Note: All data is January-December except for 2010*, which only includes exports from January-April.
Further Reading