International Egg and Poultry Review: US
US - This is a weekly report by the USDA's Agricultural Marketing Service (AMS), looking at international developments concerning the poultry industry. This week's report covers US poultry meat exports to Russia and other countries.
Plants eligible to export to Russia
On 23 July 2010, FSIS updated the Export Requirements for Russia. Pathogen reduction treatments which are known to be approved for use on poultry in Russia are listed. The list includes both antimicrobial agents and acids used for pH control which are necessary for some treatments to provide conditions to make antimicrobial ingredients effective.

If poultry and poultry products have been in contact with potable water that has additional chlorine added beyond that allowed in meeting the US potable water standard during slaughter and processing operations, chlorine will be indicated on the Letterhead Certificate as being used to process the poultry along with the pathogen reduction treatments used as either a pre-chill wash, a post chill wash or in the chill tank.

Poultry and poultry products produced prior to 14 July 2010 will be considered on a case-by-case basis provided the establishment can provide sufficient documentation to demonstrate that the current requirements have been met. Any such request by the establishment should be referred to FSIS Office of International Affairs, Export Programs Staff at [email protected].
Plant approval for raw poultry
A list of establishments approved to export poultry to Russia is available. All poultry slaughter establishments, poultry processing establishments, and cold storage facilities must apply via FSIS Form 9080-3 (12/10/2008) – Establishment Application for Export – to be listed as eligible for export of poultry to Russia. The form is available from the FSIS inspector. The completed form should be returned to the FSIS inspector. All establishments previously approved to export poultry to Russia are no longer eligible. FSIS 9080-3 (12/10/2008) forms submitted prior to 2 July 2010, are invalid.

For official requirements, click here.
US poultry exports
US poultry meat and poultry meat products exports were down 10 per cent for the first five months compared to the same period in 2009. Sharply lower exports to Russia and China were partially offset by increased exports to other countries. Exports rose 200 per cent to Hong Kong (from 32,918MT to 98,736MT); 107 per cent to Georgia (16,035MT to 33,176MT); 170 per cent to South Korea (11,778MT to 31,807MT); 123 per cent to Japan (10,000MT to 22,298MT); 243 per cent to the Philippines (5,758MT to 19,735MT); and 241 per cent to Congo (4,995MT to 17,034MT).

Poultry exports to Russia fell 87 per cent for the first five months this year due to unsettled trade issues concerning anti-microbial treatments. No poultry was exported in March and April; US Department of Commerce reported 100 metric tons of chicken leg quarters to Russia in May.

Poultry exports to China fell 80 per cent for January-May 2010 when compared to the same period in 2009. China launched anti-dumping and countervailing investigations of US broiler products in September 2009 and imposed preliminary import anti-dumping duties on US chicken products in February 2010. On 28 April 2010, China announced it would impose anti-subsidy duties on some chicken products from the US.

Source: Department of Commerce, U.S. Census Bureau, Foreign Trade Statistics; Ministry of Commerce, the People's Republic of China; Economic Research Service, USDA; news wires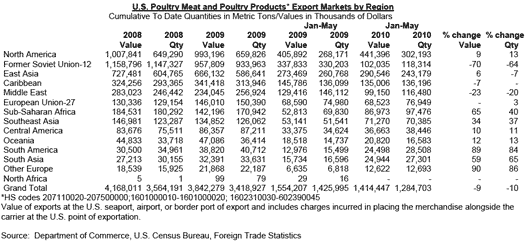 Further Reading