WHO Head Praises China over Disease Control
CHINA - China's Agriculture Minister and the WHO Director-General met yesterday. They discussed animal health and food safety issues.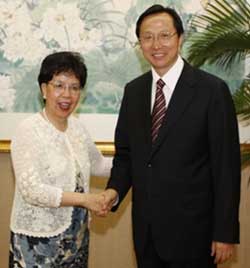 Dr Chan meets Minister Han
Han Changfu, Minister of Agriculture, met with Dr Margaret Chan, Director-General of the World Health Organization (WHO) yesterday.

Minister Han spoke highly of the positive contribution of WHO headed by Dr Margaret Chan to promoting global health care. He then elaborated on the current situation of and measures for issues concerning national food security, quality and safety of agricultural produce, animal epidemics, zoonoses, and tobacco planting, and expressed appreciation to WHO for its active coordination with and great support to the Ministry of Agriculture (MOA) in the above-mentioned areas.

The Director-General thanked MOA for its unswerving support to WHO, saying that the two sides had very successful cooperation. She appreciated the policies adopted by MOA to prevent and control animal epidemics, avian flu in particular, and safeguard food security and food safety, suggesting that the two sides further strengthen the cooperative effort in sharing resources in disease control, tobacco control as well as food security and safety.