CME: Highlights of USDA's <i>Cold Storage</i> Report
US - USDA released its monthly Cold Storage report on Friday and that report appears somewhat bullish — for just about all species, write Steve Meyer and Len Steiner.
Leading the way is pork where higher wholesale prices have driven significant liquidation of frozen inventories. If anyone is wondering why bellies are record high, just look at July 31 stocks at 36 per cent of one year ago — only 21 million pounds. Only ham and variety meat inventories grew during July.

As can be below, pork stocks are at their lowest level since mid-2004 — and production this year will be roughly 9 per cent larger than in '04.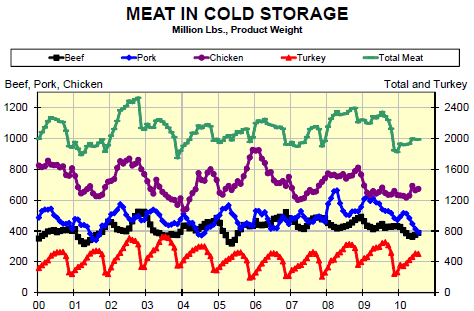 Turkey inventories appear to be making their normal summer peak leading into early buying for Thanksgiving needs — but that peak is over 21 per cent lower than last year's. Total chicken stocks were 1.3 per cent lower than last year but 1.4 per cent higher than last month.

Stocks of leg quarter products are still high pending the full resumption of shipments to Russia.