International Egg and Poultry Review: Global
GLOBAL - This is a weekly report by the USDA's Agricultural Marketing Service (AMS), looking at international developments concerning the poultry industry. This week's report covers the customs union between Russia, Belarus and Kazakhstan, and new Viet Nam trade regulations.
The Custom Union agreement between Russia, Belarus and Kazakhstan was reached on December 2009 and came into force on 6 July 2010, when all three countries finally ratified it. Some customs procedures at the Russian/Belarusian and Russian/Kazakhstani border have been slightly changed by the Unified Custom Code, but the national custom posts on the borders between the three countries will remain until at least 1 July 2011. So far, most rules and requirements for food and agriculture imports to Russia remain unchanged.

The Custom Union Commission adopted the Union's legislative documents, including those documents pertaining to the unification of veterinary, sanitary and phytosanitary requirements. The information about Commission decisions and adopted documents is posted on the Union's web site.

The Custom Union has not completed the development of the unified veterinary, sanitary and phytosanitary requirements (SPS) and some officials expect that these procedures will be completed by July 2011. Another important development of the Custom Union is the adoption of unified technical regulations which includes technical regulations for food products. Some officials set July 2012 as the final date for the Custom Union technical regulation adoption. However, experts consider that this may take much longer than two years.

The major regulatory framework documents of the Custom Union were developed by July 2010, but the text of these regulatory documents did not answer all questions traders and business had. Besides, the implementation of all regulations, the mechanism for the functioning of customs and inspection services has not been developed. In order to facilitate the transition, the Russian Federation created a system of consultation hot-lines to guide foreign economic traders and businesses.

The hotline information is posted on the official Russian Government web site - Ministry of Economic Development for Russia: tel. +7-495-651-77-50 (Weekdays: from 9:00 AM to 9:00 PM; Saturdays - from 9:00 AM to 3 PM).

Information pertaining to the Customs Union workings and documents reference: www.tsouz.ru; the Russian Ministry of Economic Development: http://www.economy.gov.ru/minec/activity/sections/; the Federal Customs Service of Russia: http://www.customs.ru/ru/; Rospotrebnadzor: http://www.rospotrebnadzor.ru/; and VPSS: http://www.fsvps.ru/fsvps.

Source: USDA FAS GAIN Report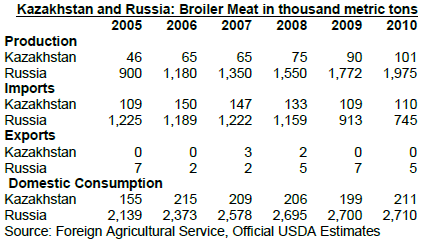 Viet Nam issues new maximum residue levels for many meat, poultry and seafood products
On 6 May 2010, Viet Nam's Ministry of Agriculture and Rural Development (MARD) issued Circular 29/2010/TT-BNN (Circular 29), establishing new Maximum Residue Levels (MRLs) for many meat, poultry, and seafood products. Circular 29 will take effect 1 July 2010, and will replace part of the Ministry of Health's (MOH) Decision 46/2007/QD-BYT

Circular 29 affects a specific list of meat, poultry, and seafood products. The Circular applies to both domestically produced and imported products. Of particular concern to Post is the Circular's zero-tolerance for Salmonella spp. for poultry meat, eggs, and egg products. Post considers zero-tolerance for Salmonella spp. in the aforementioned products contrary to international standards, not science-based, and unnecessarily trade restrictive. In addition, Post doubts whether Viet Nam's domestic industry can meet this MRL which, if true, contravenes Viet Nam's WTO National Treatment obligations. The official GVN translation of Circular 29 can be found here.

Source: USDA FAS GAIN Report
US turkey exports up six per cent
Turkey meat exports totalled 82,813 metric tons (MT) for January through May 2010, up six per cent from the same period a year ago. Exports to Mexico, our major market, were up five per cent. Strong demand from Hong Kong (up 318 per cent) pushed exports of offal up 104 per cent. Turkey leg exports rose 30 per cent due to a strong demand from Mexico (up 56 per cent); turkey wing exports grew 29 per cent, due to strong demand from China (63 per cent), Hong Kong (87 per cent) the Bahamas (117 per cent), Barbados (514 per cent) and Honduras (7,724 per cent).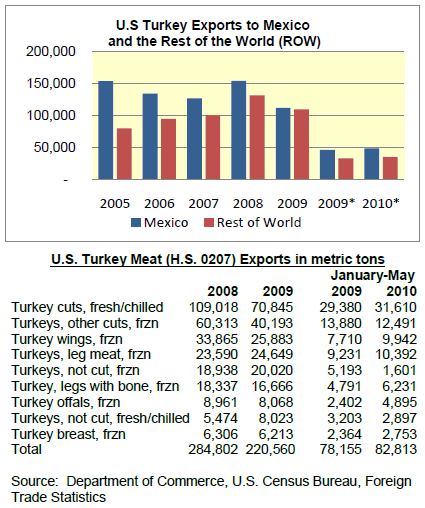 Further Reading