International Egg and Poultry Review: Japan
JAPAN - This is a weekly report by the USDA's Agricultural Marketing Service (AMS), looking at international developments concerning the poultry industry. This week's report covers the broiler and egg markets in Japan.
Japan entered a recession in 2008 and it deepened in 2009; some growth is expected in 2010. Consumers are expected to remain highly sensitive to price and value, giving broiler meat a competitive edge over more expensive proteins. Annual household consumption of chicken rose eight per cent in 2009, compared to increases of four per cent in beef and two per cent in pork.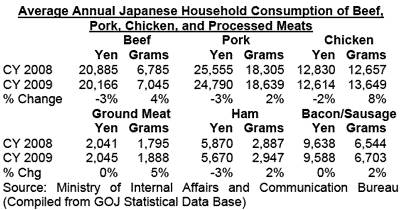 In 2009, Japan's broiler production totalled 1.26 million metric tons (MT) and imports totalled 700,000MT. Nearly half of total imports are 'prepared (or cooked) products of broiler meat', mainly supplied by Thailand and China. Japan's food service sector uses large quantities of imported raw broiler cuts, mostly from Brazil.

Domestic broiler production is expected to increase one per cent to 1.265 million MT. A grower association's survey conducted at the end of January indicated an increase in the number of broiler chicks placed on feed this year. Lower monthly poultry stocks may help market prices remain steady and stay competitive this year, at least for boneless leg meat. Breast meat is less popular and may need to be sold at a discount if supplies become too heavy. A reduction in the price of inputs, especially with lower prices for formula mixed feeds, could help domestic producers' bottom line.

Strong downward pressure on the price of Brazilian and US cuts at the wholesale level posed a serious challenge for importers in 2009. Large carry-over inventories were bought at the higher price levels and many Japanese broiler importers rushed to clear out their expensive inventory, even at a huge financial loss. The average CIF price of broiler cuts in 2009 was down 20 per cent to US$2.49. The drop in price resulted in a 34 per cent drop in end-of-year stock levels – from 175,559MT in December 2008 to 115,574MT in December 2009.

For the first half of 2010, Japan's imports of dried whole eggs fell fell five per cent while other egg products increased: dried yolk (nine per cent); dried albumen (seven per cent); other yolk (13 per cent) and liquid whole eggs (39 per cent) compared to the same period a year earlier.

The Portal Site of Official Statistics of Japan has a breakdown of imports by country. The US accounted for about 71 per cent of the dried yolk; 82 per cent of dried whole and 80 per cent of liquid yolk. The EU was the main source of dried albumen (54 per cent), mostly from the Netherlands (30 per cent). Liquid whole egg came mainly from China (57 per cent) and Thailand (43 per cent).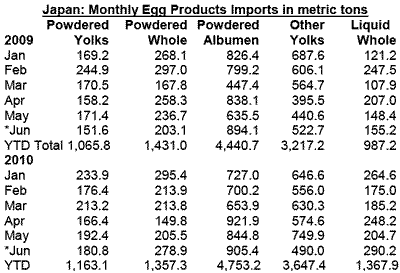 Frozen broiler imports for January through May 2010 were 21 per cent higher than for the first five months in 2009. Imports from the US almost doubled (up 99 per cent) and Brazil was up 17 per cent. Imports from China are growing but are still small volumes.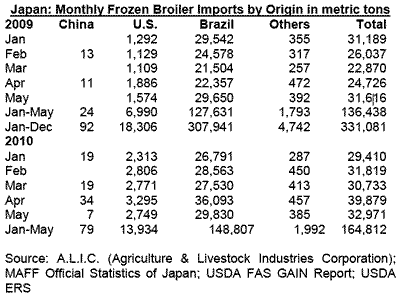 Further Reading