Italian Customers Visit Aviagen's UK Operations
UK - Aviagen Italia recently invited representatives from La Pellegrina, a Ross customer for over 12 years, for a behind-the-scenes tour of Aviagen's Scottish facilities.
La Pellegrina is one Aviagen Italia's largest customers, placing around 1.5 million parent stock birds each year. The Ross 708 bird has been particularly successful in the Italian market.

The visit was hosted by Alan Thomson (Regional Technical and Commercial Manager), Claudio Ambrogio (General Manager of Aviagen Italia) and Lorenzo Rossi (Technical Service Manager, Aviagen Italia). Pietro Castagnini (Production Director), Claudio Baccarin (Breeder Manager) and Renato Poletto (Broiler Manager) with La Pelligrina, Italy's largest poultry integrator, enjoyed visits to several key facilities and presentations, including an update on the latest R&D. The visitors enjoyed the opportunity to get access to Aviagen's state-of-the art facilities and the informal and open discussions, allowing unique challenges within the Italian poultry industry to be discussed.

Alan Thomson said: "We were pleased to welcome Mr Castagnini and his colleagues to our Scottish facilities. It was a very useful visit for all involved. We wanted to demonstrate that being an Aviagen customer puts a company in a position of strength. We are proud of our customer service and technical teams and although we are a big company, our clients can always rely on one to one support and access to our poultry specialists."

Claudio Ambrogio added: "In Italy, ventilation, especially in winter, is a big issue. With such warm summers, weather variations can be extreme which means balancing the right levels of ventilation over the year is difficult. We were able to demonstrate some of the solutions used in Scotland for effective winter management."

Pietro Castagnini commented: "On behalf of all my colleagues who attended the visit, I would like to thank you for the excellent organisation and the level of attention you gave to us. Our visit was interesting and enjoyable and we took away many learning points which we can apply in our operation for the success of the Ross product."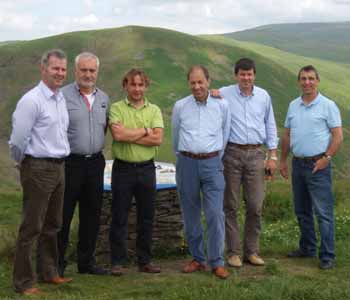 left to right: Alan Thomson, Claudio Baccarin, Lorenzo Rossi, Pietro Castagnini, Renato Poletto and Claudio Ambrogio at The Devil's Beef Tub just outside Moffat in the Scottish Borders