UNSW Organises an Odour Workshop
AUSTRALIA - An intensive odour workshop at the University of New South Wales (UNSW) in August aims to provide practical hands-on training for sampling, storing and analysing odours and odorants.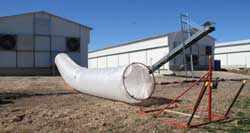 An odour sampling duct attached to a poultry shed
Minimising the impact of poultry production on peri-urban dwellers remains a significant challenge for the poultry industry, and Poultry CRC-funded research continues to explore dust and odour emissions from poultry sheds and the types of tools needed to monitor and control these impacts.

Running the workshop are UNSW's Professor Richard Stuetz and Gavin Parcsi, both of whom were involved in earlier Poultry CRC research into dust and odour emissions from poultry sheds, according to EChook News from Poultry CRC.

Professor Stuetz explained: "Odour and odorant analysis is a challenging field due to the inherent instability of odorants. As a result, the methodologies and techniques used for sampling and analysis can have a significant influence on the obtained results.

"This two day intensive workshop provides participants with practical training on conducting odour and odorant sample collection and analysis, along with an understanding of key issues related to sample collection, storage, and analysis. Due to its hands-on focus, this workshop will be restricted to six participants only."

The Odour and Odorant Analysis Workshop will be conducted at UNSW's Water Research Centre (Kensington Campus) on 26 and 27 August. More information, including the registration form, can be found at Water Research Centre web site [click here].