Will Rising Grain Prices Affect Livestock and Poultry?
US - Will rising grain/feed ingredient prices slow the responses of livestock and poultry industries to the good times they have seen, asks Steve Meyer and Len Steiner.
That is a question running through many people's minds these days as corn and soybeansboth rallied on news of robust US corn exports and anecdotal reports of disappointing yields and some potential quality problems for corn. New crop CME Group corn futures were 10 to 12 cents/ bushel higher today while new crop soybeans rose 13 to 15.5 cents/bushel, driving soybean meal futures up by $5.50 to $6.30 per ton.

The feed price increases combined with a down day for CME Group Lean Hogs futures (nearby October off $1.30 and December off $1.20/cwt.) continued a recent trend of declining profit expectations for US hog producers. Projected costs, based on Iowa State's Estimated Costs and Returns parameters and today's futures prices, have increased to the upper $60s for next year with the high being $69.45 for hogs sold in June. Projected profits for 2010 have fallen about $3/head since early June and projected 2011 profits are now sharply lower at $8.96/head with losses in Q4-2011.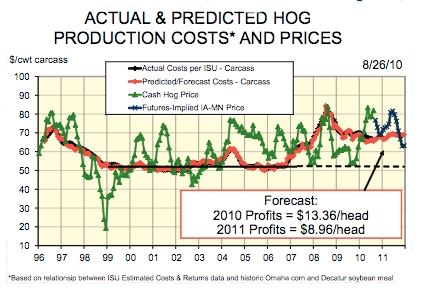 CME Lean Hogs futures prices are currently forecasting hog prices in Q4-2011 to be about eight per cent lower than those of Q4-2010, suggesting that the market is expecting something near three per cent more pork on the US market next fall versus this year. Pulling another one per cent off the US market for exports (about a five per cent increase in exports, year-on-year) would allow production in Q4-2011 to be four per cent larger than this year. It is difficult to imagine carcass weights growing much if numbers increase and thus remove some slack finishing capacity so we would expect slaughter to be roughly four per cent larger as well. If litters keep growing at two per cent, the sow herd would have to be two per cent larger by 1 December to get this kind of increase. Any slowdown of litter size growth would require an even larger sow herd increase. The 2 per cent scenario would put the 1 December 2010 herd at 5.967 million head, 179,000 larger than the herd on 1 June. Will producers be that aggressive given these profit projections?

Last week's monthly Chickens and Eggs report from USDA indicates that the broiler-type laying flock declined marginally from June to July but was still 3.2 per cent larger than one year ago. US broiler producers reported having 55.288 million hatching hens in inventory, on average, last month. That compares to 53.558 million last year. The broiler breeding flock bottomed out last October at 52.366 million hens, its lowest level since September 1997.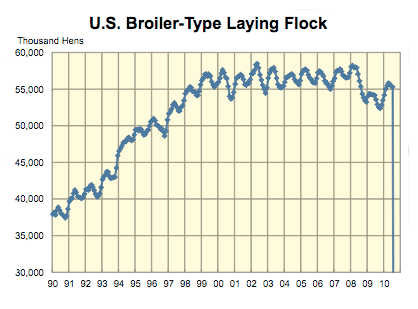 The quick reduction of the broiler breeding flock from early 2007 through late 2009 and now the relatively quick buildup of that same flock underscores one of the chief advantages of the broiler industry: response time. Not only can they quickly move to reduce supplies and stop any red ink that may be flowing, they can also ramp up output and fill any protein supply voids that may be created as the pork and beef industries reduce output at a much slower pace as they are doing now. The ability to move quickly is simply a function of biology. It takes only 8 weeks from the time an egg is produced to get a market-ready chicken. A pullet (young female) reaches breeding age at 5 to 6 months. That means the broiler industry can begin to increase output in only 8 to 9 months. No one knows how quick or how large the industry's response will be simply because no one has ever witnessed a reduction of this magnitude.