CME: Highlights from Latest <em>Cold Storage</em> Report
US - Chicken stocks are almost eight per cent higher than a year ago, while turkey stocks are 24 per cent down, according to the latest USDA Cold Storage report, write Steve Meyer and Len Steiner.
Bellies stocks on 31 August amounted to only 6.89 million pounds, the lowest level since September 1995 when stocks were 6.255 million pounds. The chart below shows monthly frozen bellies stocks back to 1973. It is quite common for bellies stocks to bottom out in August or September at the end of BLT (bacon, lettuce and tomato sandwich, for those of you outside the US) season and before larger seasonal supplies of bellies are available. This year's inventories have been under intense pressure this summer as slaughter has fallen short of expected levels and pork demand has picked up (see yesterday's DLR). The 31 August inventory was down 86 per cent from one year ago and down 68 per cent from 31 July. For anyone interested, that peak bellies stock number in April 1989 was nearly 21 times a large as the August 31 stocks.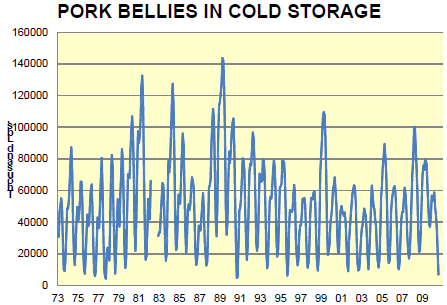 The following table contains the key meat and poultry data from today's Cold Storage Report.
USDA Cold Storage Report
22 September 2010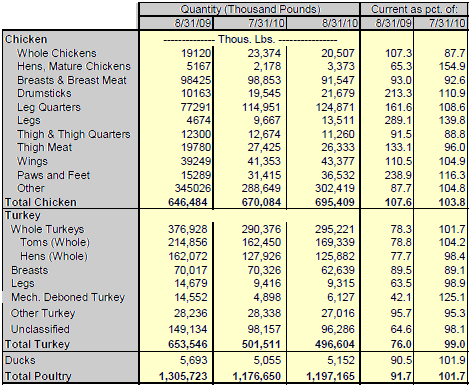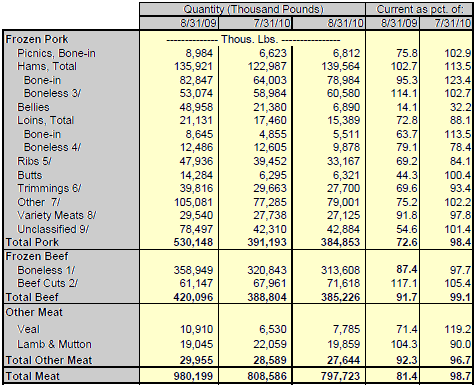 The monthly data for each of the four major species as well as total meat and poultry appear in the chart below.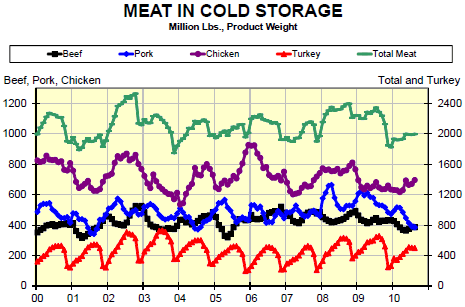 Some highlights are:
Total meat and poultry stocks amounted to 1.995 billion pounds, 12.7 per cent lower than last year but 0.5 per cent higher than last month.


Total pork stocks of 384.853 million pounds were the smallest since August 2004 and were 27.4 per cent lower than last year and 1.6 per cent smaller than last month. Quite obviously, bellies were the leader of the decline but inventories of every other cut except hams (which were 2.7 per cent higher than last year and 13.5 per cent higher than last month) were lower than in August 2009. Rising ham stocks are no surprise at this time of year and we expect to see them rise even further in September due to both seasonal ham inventory building and, perhaps, some slowing of ham shipments to Mexico. The 5 per cent tariff imposed on US pork as part of Mexico's retaliation over US limits on Mexican trucks has made Canada more competitive in Mexico.


Total chicken stocks were 695.409 million pounds, 3.8 per cent larger than last month and 7.6 per cent larger than one year ago. While still far below their peak back in late 2005, this increase indicates that chicken companies are not moving all of their higher production levels. One problem, of course, is still Russia and a symptom is nearly 125 million pounds of leg quarters – up 61.6 per cent from last year and 8.6 per cent from last month – in freezers.


Turkey stocks appear to be at or perhaps past their normal seasonal peak as 31 August stocks were one per cent lower than those of 31 July. More important, 31 August stocks were 24 per cent smaller than one year ago and, barring a surprising turn in September, it appears that this year will see the lowest seasonal peak for frozen turkey inventories in our data set that goes back to 1993.


Beef stocks were 8.3 per cent lower than last year and 0.9 per cent lower than last month. All of the decline was in boneless beef.
The US House of Representatives passed the reauthorization of the Livestock Mandatory Reporting Act of 1999 last week, meaning that the mandatory price reporting system will continue uninterrupted for 5 more years. The bill adds wholesale pork cuts to the mandatory price reporting system and authorizes USDA to collect and publish weekly pork export data.