CME: US Meat, Poultry Exports in July Mixed
US - US meat protein exports were mixed in July as shipments of US beef continued to post solid gains while pork and chicken exports were lower compared to July 2009, write Steve Meyer and Len Steiner.
Below is a brief summary of the July data:

Pork: US pork exports pulled back sharply in July in large part due to a decline in exports to Japan. July shipments to the Japanese market were reported to be 102.3 million pounds, 29.5 million pounds or 22 per cent less than the previous month and 10.7 million pounds or 9 per cent lower than the previous year. Exports to Mexico also declined about 7.2 million pounds or 8.3 per cent compared to the month prior and were at about the same level as a year ago. Russia continues to be a problem for the US pork industry. Last year, July pork exports to Russia were 42.8 million pounds while this July US pork exports to this country were a mere 14.4 million pounds, a 66 per cent decline from year ago levels. US pork exports to China, the Caribbean and many smaller markets generally remain strong but the declines in exports to Japan and Russia were enough to stop the momentum created in Q2.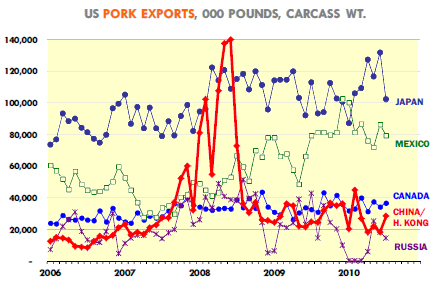 Beef: July beef exports built upon the strong performance in the first half of the year and shipments to most key markets posted robust growth. As the chart below shows, the steady gains in beef exports to Asia have contributed significantly to the recovery in US beef exports. July shipments to Japan were 37.3 million pounds, 10.5 per cent higher than a year ago while exports to S. Korea at 31.7 million pounds were up about 313 per cent from year ago levels. Mexico and Canada remain very important for the US beef export business and recent increases in exports to Mexico should be seen as positive. Beef exports to Mexico were 45.3 million pounds, still about 16 per cent lower than a year ago but off the lows registered earlier in the year. US beef exports to smaller markets also have become more important in recent months and in July rose about 47 per cent from year ago levels.
Broilers: Almost no US broiler meat went to Russia in July even though the Russian President Medvedev and President Obama agreed on a deal for US chicken exports to Russia in late June. Total US broiler exports in July were 520.7 million pounds, 40 million pounds or 7.1 per cent lower than year ago levels.