International Egg and Poultry Review: Italy
ITALY - This is a weekly report by the USDA's Agricultural Marketing Service (AMS), looking at international developments concerning the poultry industry. This week's report focuses on the Italian poultry industry.
Italy is the sixth largest poultry producer in the EU and the third largest turkey producer by volume. Italy's poultry production grew eight per cent in 2008, slowing to two per cent in 2009 due to the global economic crises. Turkey production grew 11 per cent in 2008, but fell two per cent in 2009. For the period January to April 2010, poultry production is up seven per cent and turkey production is up one per cent compared to the same period in 2009.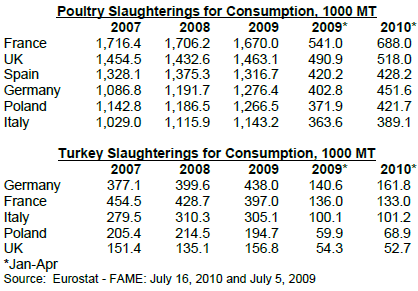 Domestic demand for broiler meat increased due to the relatively lower prices for broiler meat compared to other kinds of meat. Higher demand led to higher prices, while lower feed prices and a decrease in energy costs lowered the cost of production, resulting in higher margins for producers. By the end of 2009, domestic supply exceeded demand, bringing prices down and hampering production growth in the first months of 2010.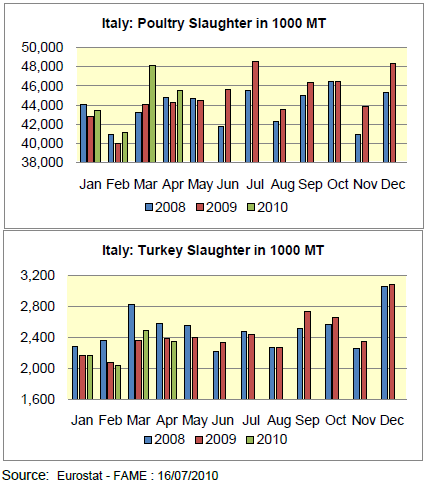 The broiler industry expects per-capita consumption to remain stable at about 11.5 kilograms in 2010. About 64 per cent of broiler meat is consumed at legs and breasts, 21 per cent as processed products and 15 per cent as whole birds.

EU turkey meat production has trended lower for the past several years, but Italy's production has been relatively stable despite a slight decrease in 2009. The short-term forecast for 2010 is near zero growth. About 79 per cent of turkey meat is sold as 'selected pieces' (legs, breasts, etc), 19 per cent as processed products and two per cent as whole birds. Turkey meat consumption has been almost flat, a trend that is expected to continue in 2010.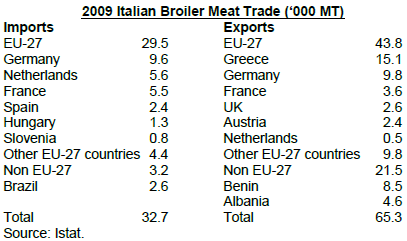 The EU began blocking imports of US poultry meat in 1997 because of the use by American processors of what the EU deemed unacceptable levels of chlorine as an antimicrobial wash. Before 1997, US exports of broiler and turkey meat to the 15 countries that then constituted the EU were reported to total nearly 32,000 tons, valued at $44.4 million (€32.9 million). Now that the EU consists of 27 countries, estimates value the lost US market between $200 and $300 million (€148 to €222 million) a year.

Source: USDA/FAS PSD, FAS GAIN Report, Eurostat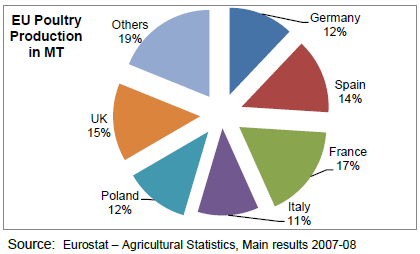 Further Reading