International Egg and Poultry Review: Mexico
MEXICO - This is a weekly report by the USDA's Agricultural Marketing Service (AMS), looking at international developments concerning the poultry industry. This week's report focuses on the Mexican turkey industry.
Production
Most producers suspended turkey meat production as a result of the world economic crisis but it is expected that production capacity will slowly return in 2010. Turkey meat production in Mexico is projected to increase 15 per cent in 2011, reaching levels seen prior to the world economic crisis in 2008. Estimates of turkey meat production in 2010 and 2009 have been revised lower. The majority of Mexico's turkey meat production takes place in the states of Yucatan and Chihuahua, which accounted for 27 per cent and 16 per cent, respectively, of the turkey meat production in 2009. Prior to 2009, Chihuahua was the lead producing state of turkey meat. Mexican turkey meat production only represents 10 per cent of total consumption.

Consumption
Turkey meat consumption in 2011 is projected to increase 10 per cent to 165,000 metric tons (MT). However, estimates for 2010 and 2009 have been revised lower. It is expected that turkey meat consumption will achieve 1.78kg per capita per year in 2010. In 2009, per-capita consumption of turkey meat was 1.44kg per year. Turkey meat consumption has increased 36 per cent over the past 10 years.

The consumption of processed turkey products (value-added items) like cold cuts, hams, hot dogs, nuggets, patties and sausage is expected to show the greatest improvement with consumption forecast to recover in 2011 to pre-crisis 2008 levels. As a result of the increased consumption a two per cent increase in the production of value-added products in predicted. The majority of turkey sales (uncooked whole turkeys) will occur during the Christmas holiday season (75 to 80 per cent) though the majority of these sales will be imported whole turkeys.
Imports
The US will remain to be Mexico's largest supplier of turkey meat comprising 98 per cent of its imports in 2011. The remaining two per cent is expected to be filled by Chile and Canada. Mexico imported US$258.7 million worth of turkey products in 2009 from the US, 25 per cent lower than in 2008. Total turkey meat imports from January to April 2010 were 3.5 per cent lower. Imports from Chile declined 81 per cent. 2011 imports are projected to increase about 10 per cent due to recovery from the world economic crisis in 2008. Imports in 2010 and 2009 were revised lower due to a variety of adverse issues like the international economic crisis, the devaluation of the Peso, and the H1N1 outbreak.

From January to May 2010, turkey meat imports consisted of 68 per cent fresh parts, 21 per cent frozen parts, five per cent whole birds and five per cent mechanically deboned meat of which the US supplied 99 per cent, up from 2009 (96 per cent). Imports of sausage (HS 1601.0001) rose 5.6 per cent to almost 2008 levels from January to May 2010. The US supplied 97 per cent of these imports. Turkey meat imports usually cover about 90 per cent of consumption.
Exports
Even though Mexican turkey meat exports only account for a small percentage of Mexico's poultry business, turkey meat exports increased nearly 160 per cent from January to April of 2010 versus that of 2009. Most of this increase was on further processed meat items under HS Code 1602.3101, which were shipped primarily to the US (99 per cent) and Guatemala (one per cent). In 2009, Mexico exported only 150MT of turkey products, mostly processed meat under HS Code 1602.31 to the US. Mexico is expected to export about 350 to 360MT total of turkey meat in 2010.

Recently, the Government of Mexico (SENASICA) and the USDA FSIS posted that the import ban placed on live birds, poultry products and by-products, and eggs from the following: Meeker County, Minnesota; Edmonton County, Kentucky; Tarrant County, Texas; and Giles and Lincoln County, Tennessee has been lifted. The bans were originally placed in 2009 after findings of low pathogenic avian influenza (H7N9) in commercial flocks of turkey, poultry, duck and breeder chicks was found. For more information, see USDA FAS Gain Reports released on 4 August 2010 and 21 September 2010. In addition, for more information on US shell egg exports being permitted into Mexico, see USDA FAS Gain Report MX0058.
Source: USDA FAS/USDA FAS PS&D Online/UNA/USDA FSIS/Various News Wires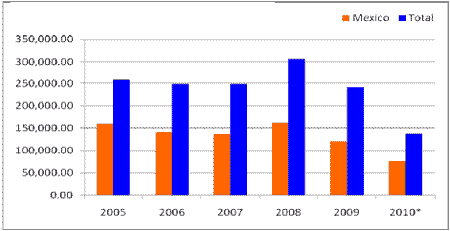 US turkey meat exports to Mexico versus total US turkey meat exports
Comparison of US MST exports to Mexico and total US MST exports with frozen 15-20 per cent MST export pricing (delivered cents per pound to port/border)
Note: Export volumes for HS Code 1602.310.030. Source: Department of Commerce, US Census Bureau, Foreign Trade Statistics/USDA FAS/USDA AMS Poultry Market News and Analysis
Further Reading