International Egg and Poultry Review: South Korea
SOUTH KOREA - This is a weekly report by the USDA's Agricultural Marketing Service (AMS), looking at international developments concerning the poultry industry. This week's report focuses on the poultry situation in South Korea.
The broiler industry in South Korea has grown from producing 451,000 metric tons (MT) of broiler meat in 2005 to 605,000MT in 2009, and is forecast to reach 660,000MT in 2011. Strong growth in domestic demand is a major reason for the increase. Health conscious consumers are eating more chicken and during the soccer World Cup consumers were ordering more home delivery for fast food chicken. Country of origin labelling (COOL) at restaurants is also affecting consumers' choice of domestic product over imported product.

Koreans consume more pork than any other meat. Chicken meat consumption was slow to grow in South Korea in part due to a relative lack of recipes using chicken. The introduction of fast food fried chicken franchises resulted in a growth of broiler consumption in the 1980s and 1990s. The fast-food delivery business accounts for 50 per cent of total broiler meat consumption according to the Korea Chicken Council (KCC). In an Internet poll taken during the World Cup event, chicken ranked as the top snack food to be consumed with beer. In the past, whole chickens were consumed in traditional dishes during the summer season but dietary patterns have changed due to rising incomes, greater availability of international foods, and healthy eating trends. As a result consumers are eating more chicken throughout the year.

More consumers are buying broiler cuts due to the convenience of packaged ready-to-cook breast, leg and wing meat compared to whole birds. Broiler cuts represent 25 per cent of total production (excluding whole fryers used in chicken ginseng soup). MIFAFF estimates consumer demand for broiler meat cuts will account for 50 per cent of total production by 2012.

Mandatory country of origin labelling was introduced in December 2008; fast food delivery businesses were exempt. The COOL regulation was expanded to include these delivery establishments effective 11 August 2010. The industry expects this change will contribute to increased demand for domestic product in the coming years. A recent survey done by the Consumers of Korea (CUK) this past June found that more than 80 per cent of consumers identified country of origin as their top priority when buying chicken.

In 2010 the Ministry of Food, Agriculture, Forestry & Fisheries (MIFAFF) introduced mandatory packaging requirements for slaughter establishments handling 50,000 or more birds a day, to improve the safety of fresh poultry meat. Under this new standard, fresh poultry meat must be packaged following official inspection and then maintained at a temperature of 2 to 5 degrees Celsius. Imported poultry meat is not subject to this requirement, clearly distinguishing domestic chickens from imported chickens to Korean consumers. Effective January 2011, this requirement will be expanded to all slaughter establishments and retail shops to improve sanitation and safety. The regulation is not expected to have an impact of trade as the bulk of imported product is used in the processing sector.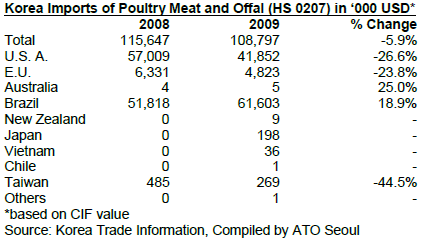 Broiler imports shot up nearly 70 per cent during the first half of this year, reaching nearly 37,000MT. A steady exchange rate combined with increased availability of US chicken meat due to the temporary closure of the Russian market helped increase imports. About half the import market is made up of chicken leg quarters (CLQ), which are used for processing or restaurant delivery service. The US is the leading CLQ supplier to Korea at about 23,400 MT followed by Brazilian CLQs at nearly 13,000MT from Jan-Jun 2010. The average CIF price for US and Brazilian CLQs are 1,474 won (KRW) per kilo and KRW2,432 per kg, respectively. Brazilian CLQs are more expensive because they are trimmed boneless. Domestic CLQs are about three to five times more expensive.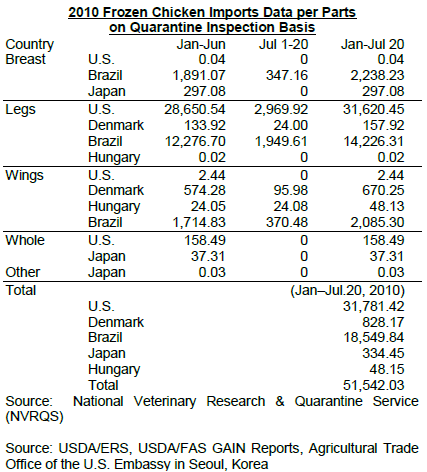 Further Reading