ACMF Explains Why Retail Chicken Prices Must Rise
AUSTRALIA - Chicken meat prices are expected to go up as the result of rising wheat prices.
Chicken is by far the most affordable meat protein. The price has been kept low by passing on to consumers the benefits of substantial efficiency gains in all areas of chicken meat production, according to the Australian Chicken Meat Federation (ACMF). In fact, in real terms, the price has fallen by 75 per cent since 1960. In other words, if the price of chicken had kept up with inflation over the past half a century, we would now pay A$40 for a whole fresh chicken rather than $10.

"Now, a point has been reached where prices will have to increase for the industry to remain profitable and able to meet the increased demands for its products," says Dr Andreas Dubs, Executive Director of the Australian Chicken Meat Federation. The World Bank reports that "since mid-June, global grain prices have been rising with a 56 per cent rise in global wheat prices and knock-on impacts on other commodities such as rice, maize, and sorghum." Australia is by no means immune to these increases. This is illustrated in the graph below, which shows typical prices paid over recent months by Australian processors.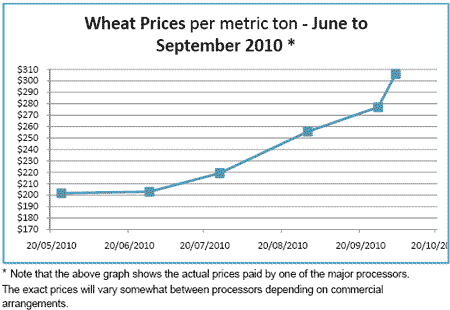 Grain represents the major input cost into growing meat chickens and thus it is obvious that the latest increase in the cost of feed, together with substantial increases in energy costs, transport and water as well as labour over the past year must lead to an inevitable increase in the cost of chicken to the consumer.

On the positive side, Dr Dubs is keen to stress that even with the price of chicken increased to reflect the significantly increased cost of production, chicken will remain affordable in all its various forms from whole chickens and breast fillets to chicken mince and sausages. Indeed, ABARE forecasts a further 10 per cent increase in per-capita consumption over the next five years in line with past trends, while beef consumption is predicted to fall by a similar amount.