Crosson Joins Hubbard as Tech Service Rep
US - Hubbard is very pleased to announce that Steve Crosson has joined Hubbard LLC to fill the position of the Western Region Technical Service Representative in the US.
Mr Crosson comes to Hubbard from OK Farms in Fort Smith, Arkansas where he held the position of Breeder Manager. He has been employed by OK Farms since 1991.

Over the past 20 years, he has held various positions in the broiler breeder department from pullet service technician to his current role.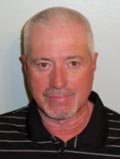 Steve Crosson
OK Farms has been a customer of Hubbard for several years, which has enabled Mr Crosson to become very familiar with the Hubbard products. This has lead to an easy transition for Steve to service the growing Hubbard customer base in the Western Region.

In recent years either the Hubbard M99 breeder male or Hubbard Yield breeder female have been placed inside every major company in the western region of the USA and Hubbard recognizes the fact that the growing customer base expects and will receive practical hands-on technical service.

Mr Crosson will be located in Greenwood, Arkansas and reports to Sean Holcombe, Technical Service Manager North America.

Hubbard has great confidence that Mr Crosson's experience will bring a lot of benefit to Hubbard.