Hubbard, CPGP Support 15th CPC Poultry School
EGYPT - The well attended 15th CPC Poultry School took place at the Club Azur resort in Hurghada on the Red Sea in Egypt from 25 to 30 September 2010.
Senior guests from the large companies gathered together with senior and new farm managers for the six-day event which included many interesting presentations on breeding, incubation, management, nutrition, physiology and veterinary/pathology issues. The Hubbard technical team sessions revolved around the theme of avian influenza.

The Egyptian speakers were Dr Sayed Shalash on nutrition, Dr Abd El Rahman Atta on physiology and reproduction, Dr Hassan Bayoumi on lighting programs and ventilation systems, Dr Awad on respiratory diseases, Dr Mohammed El Menawey on breeder management, Dr Fernando Para on chick quality and Eng. Adel Saudi on biosecurity. Eng Hammad Abdelmotal showed how risk management can be used to help the poultry farmer solve technical problems and Dr Ahmed Hassan showed a presentation about Immunity and some factors affecting Immune Response.

International speakers were Dr Eric Bonjour (Hubbard veterinarian and director of Technical Services) and Hubbard senior technicians Dr Miguel Valls and Alastair Lewin. Dr Bonjour gave an update on the importance of vaccination techniques and monitoring, followed by an in-depth discussion on avian influenza. Dr Valls shared his experience on the factors affecting persistency of production and hatchability and entertained some very useful case studies to show how AI can be eradicated. Mr Lewin firstly presented how to improve the biosecurity design of the main entrance to existing farms and new complexes under construction and secondly addressed the Hubbard M99 breeder male management.

As co-sponsor of the event, Hubbard wishes to thank Dr Nabil Darwish, Executive Managing Director of CPGP (Hubbard distributor for Egypt), and the organisers Eng. Attallah Abouzeid GM, Mohamed Samy Technical Manager, Hammad, Ahmed Hassan, Islam Raslan and Dr Ashraf Metwally and Mrs Enass Saad-Eldain along with Dr Sayed Shalash as well as Dr Nahed El Ganiny (Hubbard representative in Egypt) and their colleagues for their hard work, excellent organisation and continued CPC Poultry School commitment to the continuous education of project managers, farm managers and supervisors. The CPC Poultry School is a real asset for the Egyptian industry enabling the technicians to achieve the best results and benefits from the Hubbard Classic product. The 15th CPC Poultry School can certainly be seen as one of the best schools since its conception.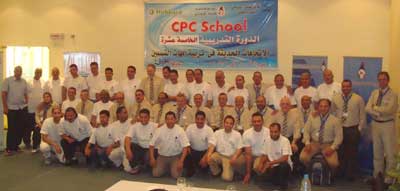 Each participant received all the presentations in English and Arabic plus many Hubbard technical presentations and bulletins. After the exams on the final day, the first three best students were rewarded with a cup and nice watch.