International Egg and Poultry Review: China
CHINA - This is a weekly report by the USDA's Agricultural Marketing Service (AMS), looking at international developments concerning the poultry industry. This week's review looks at Chinese broiler output and the recent WTO ruling on China's poultry dispute with the US.
China broiler production forecast to grow four per cent in 2011
Chinese broiler output is expected to reach 13 million metric tons (MMT) in 2011, an increase of four per cent over 2010. Strong demand for local chicken is offsetting continued high feed costs and reduced imports from the US are helping boost local prices. China's imports of grand parent generation (GPG) breeding broilers in 2010 is expected to hit a record one million sets (1 set=120 birds). Imports totalled 800,000 sets in 2008 and 960,000 sets in 2009. The increase in GPC breeding broilers will pave the way to steady growth in commercial bird production in 2011.

Another factor helping the Chinese broiler industry is the reduced number of outbreaks of highly pathogenic avian influenza (HPAI) in 2010. China is shifting towards larger-sized and more standardised commercial production; minimum volumes for contracted household farms are also reportedly rising. Even though improving scale economies and integration are improving competitiveness, high feed costs are challenging production. Corn prices rose 25 per cent for the first half of 2010, compared to the same period a year earlier. Corn accounts for 55 to 60 per cent of broiler feed. Overall, broiler feed prices increased seven per cent.

Broiler meat consumption is forecast to rise three per cent in 2011 to nearly 13.3MMT (not including claws) on top of a two per cent increase in 2010. This will boost Chinese per-capita broiler consumption to a record 10kg. Broiler meat costs less than pork or beef. Chicken claws, wings and legs account for the vast majority of Chinese retail chicken sales.

Post forecasts China's broiler exports in 2011 will increase nearly eight per cent to 410,000 metric tons (MT), following an estimated 31 per cent increase in 2010. Japan and Hong Kong continue to lead sales, accounting for nearly 70 per cent of the total combined.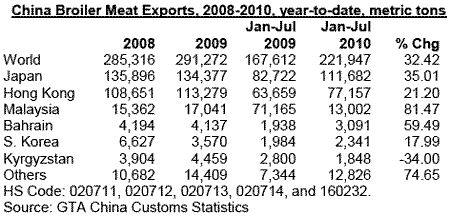 Broiler meat imports are forecast to fall 14 per cent to 280,000MT in 2011, after declining 22 per cent in 2010, excluding chicken claws. Imports from the US (including claws) fell more than 80 per cent during the first seven months of 2010 due to anti-dumping and countervailing duties imposed on US poultry in mid-February. These duties will continue into 2011 as a result of MOFCOM's recent final determinations in the anti-dumping (AD) and countervailing duty (CV) investigations.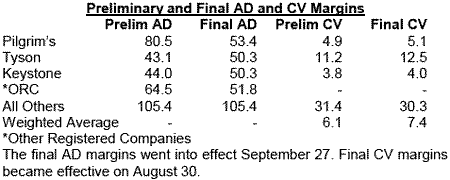 Increased imports from Brazil and Argentina have not completely replaced the sharp drop in imports from the US. Argentina cannot supply significant quantities of mid-wings, a key import item in China. Traders are also reporting that quality is sometimes uneven compared to other suppliers. The Automated Registration Form (import licence) is another limitation since maximum volumes per licence are based partly on previous year's imports.

Chicken claw imports account for 50 to 60 per cent of China's total poultry imports. The US was the primary supplier and limited shipments will continue despite the AD and CV duties. Some exporters will cut export prices since there are no alternative markets for this cut. From January to July 2010, China imported 201,997MT of chicken claws, almost unchanged from same period a year ago (201,778MT). Imports from the US fell 84.74 per cent (from 166,162MT to 25,349MT). Brazil replaced the US as a major source of chicken claws. China did not import chicken claws from Brazil in 2009 but imports totalled 100,814 in 2010. The balance of imports came from Chile (4,220), down 19.60 per cent from 2009 (5,249MT).
Source: USDA/FAS GAIN Report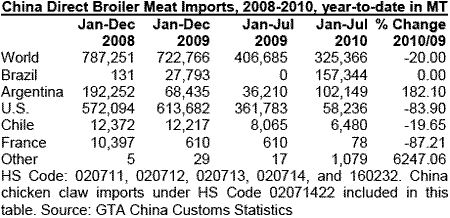 WTO ruling on China's poultry dispute with the US
The World Trade Organization released its ruling on China's dispute (DS392) over access to the United States market for poultry. According to China, the possibility to access the US market was cut off by legislation passed by the US Congress, which effectively blocked Chinese access to the US poultry market, and contravened US WTO obligations. The US argued the measure was justified under the WTO's Agreement on Sanitary and Phytosanitary Measures (SPS), which allows countries to establish safety requirements based on scientific evidence. China countered that the measure was protectionist since the US law did not allow for risk assessment and pointed out that the EU, Japan and Switzerland already allowed imports of Chinese poultry.

The WTO concluded that to the extent that the US acted inconsistently with the specified provisions of the SPS Agreement and the GATT 1994, it nullified or impaired benefits accruing to China under those agreements. The Panel did not make any recommendations given that the measure at issue, Section 727, had expired. China requested that the WTO issue a recommendation that the U.S. does not revert to similar language in future legislation, but the WTO stated that future measures were outside the terms of the WTO's reference, but noted the findings should clarify the obligations raised and provide some predictability for future cases dealing with the same or similar matters.
Source: World Trade Organization; ICTSD Volume 14, Number 34, 7 October 2010
http://ictsd.org/i/news/bridgesweeky/86141/
Further Reading