International Egg and Poultry Review: Mexico
MEXICO - This is a weekly report by the USDA's Agricultural Marketing Service (AMS), looking at international developments concerning the poultry industry. This week's review looks at Mexico's broiler situation.
Production
Broiler meat production in 2011 is projected to increase a little over 1 per cent. However this production increase depends on both international grain prices and the effect of economic recovery on domestic consumption of broiler meat. Production for 2010 has been revised 1 per cent higher, due to better than anticipated economic recovery. Conversely, 2009 production levels were revised 0.39 per cent lower. The Mexican poultry industry expects the economy to return to 2008 levels in 2011; however broiler meat production is not expected to surpass 2008 levels due to an excess supply of US chicken leg quarters.
Consumption
Consumption of broiler meat in 2011 is forecast to increase 2 per cent following a 2 per cent increase in 2010. Mexico's per capita consumption of broiler meat in 2010 is predicted to maintain its 2009 levels, which was about 25.88 kg per capita per year. Per capita consumption of chicken meat has increased 30 per cent over the past 10 years, though this trend is not expected to continue without the introduction of new, economic value-added products.

In 2009, Mexican broiler meat consumption was as follows: ready-to-cook (RTC) whole broilers 26 per cent, roasters sold in wet markets 20 per cent, live birds 29 per cent, RTC broilers and roasters sold in supermarkets 14 per cent, chicken cuts sold in supermarkets 8 per cent, and value-added products (i.e. nuggets, marinades, cordon blue, etc.) 3 per cent. The consumption of processed chicken products (value-added items) like hams and sausage are also predicted to recover in 2011 returning to 2008 levels. It is also expected that value-added production will increase 2 per cent.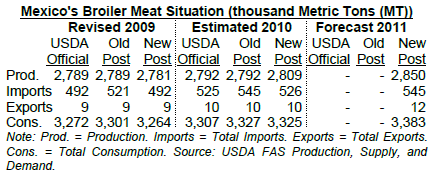 Imports
The US is expected to maintain its leading position as Mexico's top supplier of chicken imports with a 95 per cent share. The remainder of chicken imports will be managed by Chile and Canada. Mexico primarily imports fresh or chilled mechanically deboned chicken meat (MSC) for its domestic sausage and cold-cut industries and chilled or frozen leg quarters for its retail industry.

In 2011, Mexico is forecast to import 4 per cent more chicken cuts (mostly leg quarters) and mechanically deboned meat. Imports of chicken cuts and MSC in 2010 are predicted to increase 7 per cent from 2009, whereas whole chicken imports are expected to decline. Imports of leg quarters increase 33 per cent from January-April 2010, while imports of whole chickens decreased 90 per cent during the same time period due to prices. From January-May 2010 imports of frozen MSC from the US fell 12.6 per cent and Chile 32 per cent. However strong demand for raw materials such as MSC is expected to continue in 2011.

Total broiler meat imports in 2010 and 2009 were revised lower. In 2009, Mexico imported USD 475.3 million dollars of chicken products (+6.6 per cent from 2008).
Exports
Mexican exports of broiler meat are projected to rise 20 per cent in 2011 as a result of some of its establishments being approved for export to foreign countries such as the US. Mexico is expected to add an additional plant to its list eligible to ship to Japan by the end of 2010. Total broiler meat exports for 2010 and 2009 remain unchanged. However Mexican exports of whole chicken were revised up while parts were revised lower. In addition, Mexico began shipping chicken feet to Asia, chicken breasts and leg quarters to Japan, and powdered eggs to Africa in 2010. Chicken sausage exports were estimated at 4,000 MT for 2010. Mexico exported USD 16.6 million dollars of chicken to the world in 2009 mostly to the US, Viet Nam, and the Congo.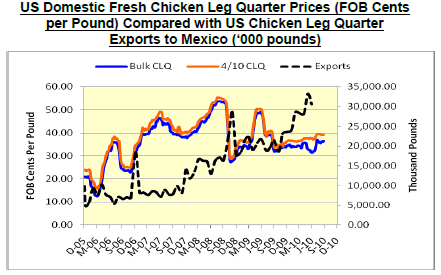 Despite strong opposition from the Mexican poultry industry, presidents from both Mexico and Brazil have stated intentions to sign a free trade agreement (FTA). Domestic producers feel the FTA would impede Mexico's ability to compete fairly due to limited feed grain availability and commercial credit in Mexico, as well as limited market access for Mexican products due to Brazil's high sanitary barriers on imported poultry products. Another concern to Mexican producers is Brazil's government support to its agricultural producers. Much of Mexico's poultry industry is also opposed to ongoing trade negotiations with South Korea, as well as any new FTAs. Many in opposition feel the Mexican government should renegotiate some provisions regarding agriculture under other existing FTAs before entering any new FTAs.

Source: USDA FAS/USDA FAS PS&D Online/UNA/USDA FSIS/Various News Wires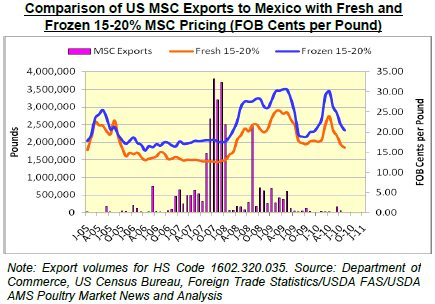 Further Reading