IPC Awards Go to Australia, Colombia
CHILE - Australia's Baiada Poultry won the first International Poultry Council (IPC) Branded Marketing Award and the FENAVI campaign received the Generic Award for Colombian poultry at the recent IPC Annual Meeting in Santiago.
Baiada Poultry Pty Ltd, an Australian company that produces a range of fresh and further processed chicken products for the retail and food service markets in Australia, has won the International Poultry Council's inaugural branded marketing award.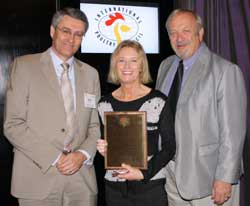 Dr Vivien Kite (centre; Australian Chicken Meat Federation) accepts the inaugural IPC branded marketing award on behalf of Baiada Poultry from IPC President Jim Sumner (right) and Robin Horel, chairman of the award committee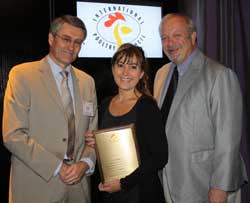 Adriana Navarro (centre; FENAVI) accepts the inaugural IPC generic marketing award from Jim Sumner (right) and Robin Horel
Meanwhile, a campaign that promoted domestic chicken consumption by the Federacion Nacional de Avicultores de Colombia (FENAVI), the Colombian Poultry Federation, won the inaugural IPC generic marketing award.

The winners were chosen from among several submissions for the awards that were presented during the IPC's annual meeting in Santiago, Chile, last week.

The IPC generic and branded awards are as yet unnamed, according to Robin Horel of the Canadian Poultry and Egg Processors Association, who chairs the IPC marketing awards committee.

The winning Baiada marketing campaign, which included advertisements on television and in print over a 14-month period, focused on dispelling myths about hormone usage in commercial chicken, while at the same time highlighting the company's attention to detail in producing a quality product.

In an interesting and risky twist noted by judges, Baiada, which had recently acquired the well-known, highly regarded Steggle's brand, used as its theme a play on words: 'We're 'Stegglers' for quality' to focus attention on the quality reputation and to retain awareness of the brand.

The generic entry by FENAVI highlighted its three-year campaign to increase Colombia's consumption of chicken. Using clever commercials featuring cartoon chickens and children, with the theme of 'A comer pollo!' (Let's eat chicken!) and 'Without chicken, there is no meal', the campaign helped to raise per-capita consumption from 21.3kg to 23.7kg in two years.

Also submitting a presentation in the branded category was Elinar Broiler, a Russian company that supplies a variety of fresh chicken products to the Moscow market. For its campaign, Elinar chose not to advertise, focusing instead on product development, packaging, food safety and cold chain issues through brochures and other materials aimed directly at consumers.

Industry organisations in Brazil (the Brazilian Poultry Producers and Exporters Association) and in Germany (the German Poultry Association) submitted entries in the generic competition.

Brazil's campaign was global in scope, promoting Brazilian chicken worldwide through food shows, workshops, trade magazines and special events. The German campaign focused on raising awareness and promoting domestic consumption, using the theme, 'German Chicken – Naturally Good!'.

The IPC is sponsoring a competition among its members to come up with an appropriate name for the award by the organization's spring meeting in Rome.