Arbor Acres Grand Parents Now in Algeria
ALGERIA - Aviagen is pleased to announce that parent stock (PS) customers in Algeria will now be able to source Arbor Acres stock directly from Algeria following the establishment of Arbor Acres Algérie, a grand parent (GP) distributor owned by the Kerbouche Group.
Located at Ain Fezza, close to Tlemcen in Western Algeria, the company is investing significantly in new, state-of-the-art facilities. There is currently one farm completed which has already accepted the first delivery of AA GP stock, while three more farms are under construction and due to be completed in 2011. There is also a new hatchery being built, which will be ready in the first quarter of next year, with the first PS expected in April 2011.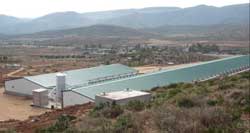 Alain Silvin, Sales and Technical Manager for Arbor Acres, said: "Placing the Arbor Acres GP stock in Algeria is the next logical step for the industry given the success AA products have seen at breeder and broiler level. The Kerbouche Group is an excellent partner and will be able to ensure a consistent supply of top quality parent stock, as well as dedicated, timely and relevant support, to customers across the whole country."

Puzant Dakessian, Aviagen's Regional Technical Manager, added: "The popularity of Arbor Acres products continues to increase throughout Africa, and indeed the world. One of the reasons for this is the excellent work done by our distributors, especially in regards to the establishment of specialist customer service teams who offer local customers dedicated support and advice. These teams work closely with the wider Aviagen team in order to share knowledge and expertise and help customers achieve maximum performance from their Arbor Acres stock. I am confident that Arbor Acres Algérie will be another excellent addition to our distribution network."

Rachid Kherbouche, owner of the Kherbouche Group, commented: "We had been looking to expand our business and we were particularly interested in developing a GP operation. Arbor Acres is the right breed for the Algerian market. Aviagen and Groupe Kherbouche have confidence in each other and the reputation of the bird in Algeria is already superb.

"We are planning a series of technical seminars next year across the country where we look forward to meeting existing and new customers and introducing the Arbor Acres Algérie team, as well as Aviagen's Arbor Acres team who will be supporting us."