Cobb Opens State-of-the-Art Tennessee Hatchery
TENNESSEE, US - The new $14 million Cobb hatchery — using the latest energy saving technology — has been officially opened at Lafayette, Tennessee, USA.
The hatchery has been developed to supply the growing demand for Cobb parent stock in the United States, and will ultimately be supplied with hatching eggs from 27 breeder farms being constructed in conjunction with local farmers.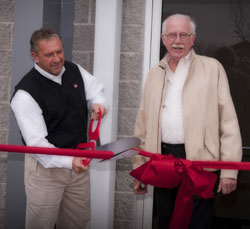 Stan Reid performing the ceremonial opening with J Y Carter, Mayor of Lafayette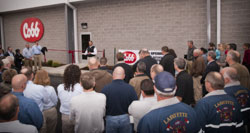 Stan Reid speaking to more than 140 guests at the official opening of the new Cobb hatchery at Lafayette.
The opening was performed by Stan Reid, Cobb vice president of sales and marketing, before more than 140 guests from the local civic and business community and from the poultry industry.

"We are excited to be in Lafayette and are happy that this investment will bring more than 35 jobs to the community," said Mr Reid. "We want to be good neighbors and look forward to becoming part of the community.

"I would like to thank the state, county, and city officials who were involved in bringing Cobb to Tennessee. This state-of-the-art facility will support our ongoing growth as we expand production to meet domestic and global demand."

The hatchery will begin producing parent stock in January and will have an output of more than 600,000 chicks/week when at full capacity later next year. It will be hatching predominantly the fast feathering Cobb500 and the Cobb700.

The complex, which includes a quality assurance and office facilities, will initially employ 35 people who have been undergoing training at the Cobb hatchery in Kentucky.

Cobb has worked closely with Lafayette city and county officials, and state economic development groups, in choosing the hatchery location.

The Mayor of Lafayette, J Y Carter, said that from their first dealings they were impressed with Cobb, describing the company as a 'class act', and that the government officials have never wavered in their support of the project.

After the official opening the guests had lunch at the hatchery and then toured the facility, seeing how the design incorporates state-of-the-art heat biosecurity and also recovery systems to save energy and reduce the carbon footprint.

A single-stage design was chosen to aid biosecurity and temperature profile settings. Incoming fresh air passes through micro-filters and ultra-violet light to supply the entire hatchery.

The heat recovery system — one of the first in a US hatchery - will save 35–40 per cent energy usage and is expected to pay for itself in well under two years.

Heat is recovered from the developing embryos and recycled to warm the incoming hatchery air, which requires little or no extra heating. As an additional benefit, the warmed water in the heat exchanger returns to the chiller.