Grand Opening for Pas Reform's Global DC
NETHERLANDS - Pas Reform celebrated the opening of its new 4,500-square metre state-of-the-art Distribution Centre (DC) at Doetinchem recently.
The new facility incorporates extensive warehousing for the full range of Pas Reform technologies. Here, large hatchery automation products will be assembled prior to shipping – and the Centre now also forms a central hub with 24-hour global ordering systems for the delivery of all stock parts to Pas Reform's customers and representatives around the world.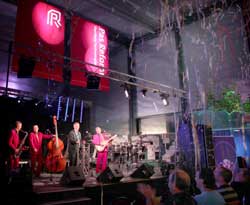 Pas Reform CEO Bart Aangenendt gave an opening address to mark the grand opening of Pas Reform's new Distribution Centre
The new Distribution Centre incorporates the very latest, dynamic technologies – to enhance logistical efficiency and communications, while speeding time-to-market for the company's products. Flexible loading, unloading, storage and workspace is contained within the striking 10 metre-high construction, which employs new reach-trucks to optimise storage and flexible loading bays with dock levelers, to provide easy access for trucks and containers of all sizes.

Addressing 150 guests at the informal opening event, Pas Reform's CEO, Bart Aangenendt, underlined the extraordinary growth experienced by Pas Reform since the launch of its modular Smart single-stage incubation technologies.

He explained: "The poultry sector is looking forward to a period of expansion, development and opportunity over the next two decades and with this new flagship facility, Pas Reform is ready and willing to lead the way, as truly global, future-focused, customer-orientated supplier."