KellyBronze Turkeys Forge Ahead in Scotland
SCOTLAND, UK - Supplies of the KellyBronze turkey are being expanded with the purchase of an Ayrshire farm within easy reach of butchers and consumers in Glasgow.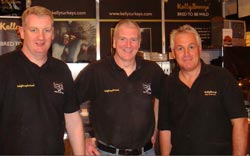 left ro right: Brothers Alistair and Jim Monk with Paul Kelly at the Glasgow Food Show
A joint venture between the Kelly and the Monk families will increase both the breeding capacity in Scotland and the production of KellyBronze turkeys for the Christmas market throughout the country.

The new company – KellyBronze Scotland – has acquired the 50-acre Magbiehill Farm, a former dairy farm near Dunlop, Stewarton, with extensive buildings that can be readily adapted for the turkeys.

The association goes back to the early 1980s when Paul Kelly and Jim Monk became colleagues studying at the Scottish Agricultural College at Auchincruive. Four years ago, Jim and his brother, Alistair, began rearing KellyBronze turkeys on rented farm facilities.

Jim Monk explained: "In the first year, we sold 500, mostly to two butchers in Glasgow. Word spread around about the quality of the turkeys, we joined the Scottish Meat Federation and last year we sold almost 5,000. We're now dealing with more than 50 butchers across Scotland and we're looking towards 6000 for this Christmas."

He had spent 20 years working for turkey companies, mostly recently on international technical service for Canadian breeders, Cuddy Farms. Alistair Monk was employed for many years at the Hannah Research Institute at Ayr.

Looking to the future, the newly acquired farm will house an enlarged flock of 6,000 birds.

For more information on Kelly Turkeys, click here.