Russian Hubbard Distributor Meets in Tunisia
RUSSIA - Baltisa, the Russian Hubbard distributor, held its annual customer seminar in Tunisia.
In early October 2010, the group Isabalt/Baltisa, exclusive Hubbard distributor for Russia/CIS, held its annual customer seminar in Hammamet, Tunisia. Year after year, this seminar has become the most appreciated private event for the Russian broiler industry. This year, more than 50 per cent of the Russian integrations, as well as top managers from the neighbouring countries Kazakhstan, Uzbekistan, Tajikistan, Lithuania and Belarus took this unique chance to attend the seminar in Tunisia and to learn more about this beautiful country in North Africa. About 170 particicpants came over for the five-day seminar highlighting the technical and economical evolution of the ongoing fast growing Russian market. The Russian poultry industry is maturing very fast now, as the country will be self-sufficient in poultry meat production much earlier than previously expected.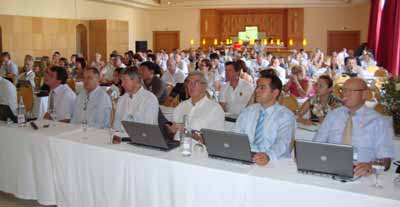 The opening speech of Dr Karma, director of the Tunisian association of poultry producers and processors, GIPAC, gave a very good impression about the organisation of the Tunisian poultry industry and the way they cope with the very seasonal demand of poultry meat and eggs due to the tourist season and Ramadan. Paul van Boekholt, Global Marketing Director Hubbard, presented the results of Hubbard being a member of Groupe Grimaud for five years. In this period, Groupe Grimaud has tripled its annual turnover and is by far the second largest animal genetics company in the world. Jean-Francois Hamon, Business Director Hubbard, showed the increased sales of the Hubbard F15 breeding stock in his area, including France and Northern Africa. Like in Russia, Hubbard is the leader in all these markets where the 'Feedsaver'-concept of the Hubbard F15 is well recognised. Other countries around the world also show an increased interest in the Hubbard F15.

The technical lectures during the following days addressed many important topics on the management of breeders and broilers. At the end, the Seminar clearly showed that the long-term trend of more expensive feed makes the 'Feedsaver' concept of the Hubbard F15 even more interesting to help to keep the cost of production down. Field data of hundreds of millions of broilers from the major companies in Russia/CIS confirm that the Hubbard F15 broiler achieves excellent results in terms of FCR, liveability and carcass quality. This results not only in significant cost savings per kg of final product, but also the highest productivity per square metre of breeder and broiler house.

During the gala dinner customers were rewarded by Gennady Sedin, Director of BALTISA, for the best technical breeder and broiler results. Then this event continued in a 'Thousand and One Nights'-style with local music and dance.

A visit to Poulina, the leading poultry company in Tunisia, and Hubbard customer since many years was also part of the seminar.