Smart Delivery to World's Largest Poultry Breeder
RUSSIA - Pas Reform has supplied a full range of Smart technologies, consultancy, project management and training services for Aviagen's new state-of-the-art parent stock hatchery in Yasnogorsk in south-west Russia.
The flagship facility, located in the Tula region, is a crucial element of Aviagen's European strategy and, says Brian Whittle, President of Aviagen's European Operations, central to the breeding company's long term commitment to growth in the country.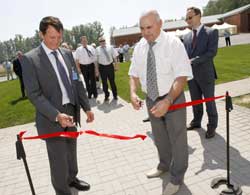 left to right: Brian Whittle, Aviagen's President of European Operations and Vyacheslav Dmitrievich Dudka, Governor of Tula
Pas Reform's project managers worked closely with Tyark Osterndorff, Business Development Director for Aviagen's Central and Eastern European team, Valery Starodubtsev, General Director for Aviagen Russia and Project Director George De Kock and his team, providing specialised engineering services and on-site supervision throughout the build schedule.

Inside, Yasnagorsk hatchery is arranged across two buildings that separate the technical area from production, with careful attention to maintaining the strictest biosecurity regimes throughout the facility.

The new installation includes SmartSetTM setters, SmartHatchTM hatchers and Pas Reform's Automated Hatching System, for a narrow hatch window. All incubation functions are monitored, recorded and controlled via the SmartCenterTM Information System and Hatchery Automation Systems include egg lifters, candling and transfer systems, chick counting, sexing and vaccination equipment. Pas Reform has also supplied climate control systems throughout the hatchery, including air handling and distribution, fumigation, heat exchange and humidification systems.

In support of this extensive installation, Pas Reform also delivered comprehensive training for hatchery personnel, as well as a bespoke hatchery management training programme. The Dutch company will continue to provide full technical backup and support through its local team and the Pas Reform Academy.

Aviagen's Yasnogorsk hatchery opened in July this year, with a launch capacity of 5.5 million day-old female parent stock chicks per annum – and room for further expansion to 7.5 million chicks a year. The hatchery delivered its first consignment of parent stock chicks to Zorinsky Breeding Farm in the Saratov region, in September.