Tyson Foods, Cobb-Vantress Make $150K Donation
US - Tyson Foods and Cobb-Vantress have made a gift of $150,000 to John Brown University towards the construction of the Bill George Arena at Siloam Springs, Arkansas, US.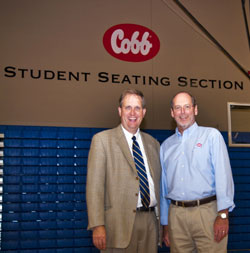 Pictured from left: Dr Charles Pollard, JBU president and Jerry Moye, president of Cobb-Vantress, in front of the Cobb student seating section in the new Bill George Arena
The arena provides a much-needed athletics facility and community gathering space with a 2,400-seat capacity, replacing a small 50-year old athletics centre.

"Our university is deeply grateful for this gift," said Dr Charles Pollard, JBU president. "We are fortunate to live in an area in which local businesses invest in the education of young people. This gift reflects the commitment of Cobb-Vantress and Tyson Foods to JBU, to Siloam Springs, and to Northwest Arkansas, and we are so thankful for that commitment,"

Jerry Moye, president of Cobb-Vantress, commented: "We are pleased to support the local community and in particular John Brown University in its efforts to continue to build a first-class education facility in Siloam Springs. We wish JBU every success with the new arena."

The Bill George Arena has already hosted National Association of Intercollegiate Athletics volleyball and a sold-out concert, with Golden Eagle basketball holding its first game there on 28 October.

John Brown University is a private Christian university, ranked second by US News & World Report in the Southern Region. JBU enrolls more than 2,000 students from 42 states and 45 countries. It is a member of Arkansas' Independent Colleges and Universities and the Council for Christian Colleges and Universities.