World Expertise at Cobb Russian Seminar
GLOBAL - Almost 100 customers from Russia, Kazakhstan and Uzbekistan took part in the two-day Cobb Europe technical seminar near Yakhonty, focusing on improving the efficiency of breeder and broiler production.
The seminar – attended by 70 per cent of the poultry industry –- was opened by Cobb Europe general manager, Roy Mutimer, followed by the vice president of Rossptisteprom, Galina Bobyleva, who stressed the importance of controlling the production cost of the poultry meat in the Russian federation.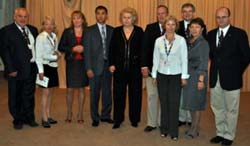 Galina Bobyleva,[fifth left] vice president of Rossptisteprom and Roy Mutimer, [third right] general manager Cobb Europe pictured with colleagues from Russia and Cobb
"This would be the most important factor for the Russian industry to become competitive in the world market" said Ms Bobyleva. "Breeding companies can help the industry with their products and knowledge – exactly the goal of the seminar."

A team of Cobb speakers presented on aspects of production: Pelayo Casanovas on efficiencies and profitability in breeder and broiler production, Patrick van Trijp on hatching egg recovery, Andre Derkx on mortality in lay, Mark Foote on hatchery effects, Leasea Butler on male management and Paul Welten on feeding for optimal production.

Two members of the Cobb world technical support contributed to the event – Matthew Wilson on ventilation management for optimal broiler performance and Dr John Halley on the efficiency of broiler performance. Martijn Gruyters of Cobb Europe covered management for optimal broiler performance.

"Our own speakers were joined by members of the Cobb world technical support team which was very well received by the delegates," said Mr Mutimer. "Everybody is looking forward to our next technical seminar."