Aviagen, Moy Park Celebrate 50-Year Partnership
UK - Aviagen and Moy Park are this month celebrating one of the longest and most productive partnerships in the poultry industry having worked together for 50 years. Moy Park has successfully used Ross products over this period.
To mark the occasion, Aviagen recently held a celebration dinner at Edinburgh's Prestonfield House Hotel, which was attended by 20 Moy Park and 10 Aviagen members of staff.

Speakers David Gibson, Director of Agriculture, Moy Park, and Graeme Dear, General Manager, Aviagen Limited, gave special recognition to Moy Park's Derek Burrows and David Henderson, who have both been working with Ross birds for the entire 50 years that the businesses have been in partnership. Also recognised were the efforts of another long-serving employee, Marion Graham from Aviagen, who recently celebrated 50 years with the company.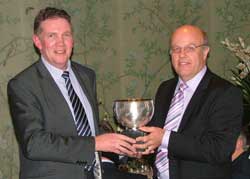 David Gibson (Moy Park) and Graeme Dear (Aviagen)
David Gibson said: "Moy Park is delighted to celebrate 50 years of partnership with Aviagen. Both companies have undergone huge transformations since 1960, including several changes of ownership. However, the Moy Park/Aviagen strategic partnership has continued and only grown stronger over this period of time.

"As a distributor of Aviagen products we look forward to continuing our close working relationship and we have every confidence both companies will continue to grow over the next 50 years."

Moy Park began life as a modest farming company called Moygashel during the Second World War. The year 1960 saw the start of their relationship with Ross, with the signing of a franchise agreement for the whole of Ireland with Chunky Chicks Ltd (original name of Ross Breeders). This involved the importation of parent stock from Scotland into Northern Ireland. This was the start of a relationship that was to develop and flourish into the partnership that exists today with Moy Park importing grandparent stock and supplying Ross parent stock to customers throughout the UK, as well as on mainland Europe.

Mr Dear commented: "Moy Park were one of our first customers. The current relationship with Moy Park is stronger than ever before. Since 1994 business between the companies has increased fourfold. The mutual level of trust in each others' biosecurity and management systems means that we rely heavily on each other to supply the wider poultry market with parent stock.

"At a personal level, the links between the key personnel are excellent and we share and support each other with information to ensure we all get the best from our Ross products. It is our aim that this should continue into the next five decades so that we can celebrate a centenary of association in 2060!"

Mr Gibson added: "Over the years the quality standards of both companies have been closely aligned and the business partnership has been built on the foundation of a competitive product in the market place and excellent teamwork by Moy Park and Aviagen teams past and present."