CME: High Feed Costs Expected to Go Higher
US - Despite our most sincere wishes, it appears that 2011 will not be a happy one if you are not wired to handle volatility or do not know how to manage it well, write Steve Meyer and Len Steiner.
"Do not squander time for that is the stuff life is made of.' Benjamin Franklin
Today marks the 1,818th time that we have pushed "Send Report," expanded your inbox contents by one item and asked for a bit of the precious stuff that your life is made of. If you have spent just five minutes per day reading our report since it first appeared on September 26, 2003 (yes, it has been THAT long), you have invested over 150 hours. We do not take that lightly. That first edition went to just over 700 recipients. Today's will go to over 10,000. We so appreciate your interest, support and your recommending DLR to friends and colleagues over the years. And we will always try to remember the precious resource you are giving us each day — a little part of your life. May 2011 be a Happy and Prosperous one for you and yours! - Steve and Len

The higher feed costs we addressed yesterday could go even higher if this year's weather does not cooperate and every species of livestock and poultry will have to deal with that uncertainty. Add to that a steadily rising oil market and its impact on gasoline and ethanol and corn (chart below) and you have the makings for an interesting year indeed. Who will blink? Or, perhaps more important, who CAN blink and when can they do it?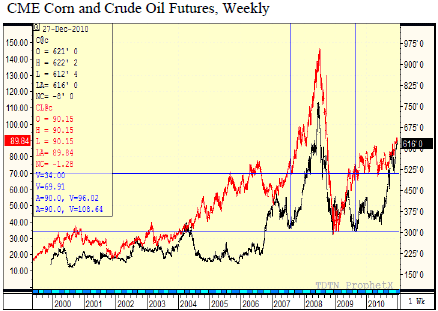 Chicken producers may be reacting to higher feed costs and squeezed margins. Egg sets have been virtually even with last year so far in December after running as much as 10 per cent higher one week in October and averaging 3.4 per cent higher from March all the way through October. Broiler chick placements have been less than 2 per cent higher than last year in December and will get closer to year-earlier levels when these recently-set eggs hatch. Our fear — and the fear of many others, too — was that chicken companies would return to their "protect market share at all costs" mentality and that the strong financial positions of Pilgrim's (JBS) and Tyson would drive a market share war that would put too much protein on the market and push down all meat and poultry prices in the process. Protecting share is a good strategy when a market is growing as chicken once was but profits and shareholder value are the name of the game now and it is encouraging to see this recent moderation.

Hog numbers in 2011 will be very similar to those of 2010 it appears. We expect weights to moderate as hog supplies decline past the beginning of the year and producers dip a little deeper into finishing barns to keep hogs moving. They simply have not been able to move pigs to slaughter as quickly as they were getting heavy this fall. We are still a bit stumped about the relationship of farrowing intentions to the breeding herd in Monday's report as they, should they be correct, imply a definite reduction in sow productivity. The possibility exists that either the intentions are too low or USDA has the breeding herd pegged too high.

Finally, we have waded through the cattle numbers on numerous occasions and it certainly appears that supplies will fall in 2011. That course — and further reductions in 2012 — are pretty well set at this time.

But the question remains "What will happen if we get a weather shock this growing season?" Chicken producers can react pretty quickly but neither hog nor cattle producers can turn quickly and reduce output and feed needs. You simply cannot "flip a switch" and stop the production process in those species without destroying animals. The grain-using business that can stop the quickest is ethanol but current energy economics and the renewable fuel standard almost guarantee that it will not slow down. Happy New Year.