Eurotier Show 2010 'Far Exceeded Cobb Expectations'
GERMANY - The Eurotier 2010 show exceeded all expectations of the event, according to Euan Meldrum, marketing manager of Cobb Europe, whose joint exhibit with Cobb Germany attracted more than 1000 visitors during the event.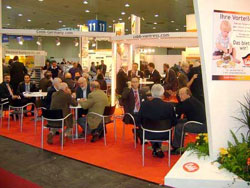 The busy Cobb stand at the event
"We were impressed by the support not only from all over Europe but also the Middle East and Africa," says Mr Meldrum. "The number and the calibre of the visitors was well beyond what we had expected."

James Truscott, director of Cobb Germany, reports that the show was 'an unprecedented success' for his company: "A lot of new contracts were concluded with many new and current customers dramatically increasing their orders for the Cobb 500," he said.

"The support for the breed shows that the geneticists' strategy of continuing to improve feed conversion and bird health is paying dividends for our European customers and Cobb's customers from further afield."

Market managers welcomed visitors from Austria, Azerbaijan, Bahrain, Belarus, Belgium, Bulgaria, Czech Republic, Dubai, Egypt, Germany, Greece, Hungary, Lithuania, Nigeria, Poland, Romania, Russia, Serbia, Slovakia, South Africa, Taiwan, Ukraine and more.