FAWC Raises Concerns over Hens' Bone Health
UK - The Farm Animal Welfare Council (FAWC) has launched its Opinion on osteoporosis and bone fractures in laying hens. The Opinion advises the Government about the concerning extent of bone fractures experienced by laying hens in all production systems and the impact on the hens' welfare.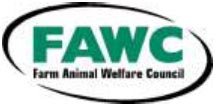 Professor Wathes, Chairman of FAWC, said: "Research has shown for some time that the incidence of bone damage in laying hens is high and more recent work indicates that rather than improving over time the situation may be getting worse. Bone fractures experienced either during lay or at depopulation have a serious impact on the welfare of the birds affected."

"Bone fractures come about by a combination of underlying and immediate causes, including osteoporosis in the hen, injuries occurring as a result of poor design and management of housing systems and poor handling during depopulation. FAWC has identified that improvements can be made through targeted nutrition, selection of birds for improved bone quality, housing systems that enable birds to exercise and improve bone strength without injury and careful and considerate handling at depopulation or consideration of alternative methods of killing on-farm."

Professor Wathes concluded: "The Council would ideally like to see bone damage in live birds eliminated entirely and to that end the egg industry and the government should be working towards a strategy of time-related reduction in bone fractures both during lay and at depopulation."
Further Reading