Grimaud Held 2nd Asia Seminar in Viet Nam
VIET NAM - Grimaud held a second successful Asia Seminar near Ho Chi Minh City earlier this month.
After holding its first Asia seminar in Penang Malaysia in December 2008, Grimaud company has organised its 2nd Asia seminar in Bien Hoa, Dong Nai Province, close to Ho Chi Minh City in Vietnam on 7 and 8 December 2010.

All the representatives of Grimaud company from each East-Asian country where Grimaud has a representation were invited to the two- day seminar, being around 10 Asian countries represented.

During the meeting, we gather all the information on the improving performances and increasing supplies of Grimaud STAR duck breeds in all East–Asia region.

It has been the occasion of the traditional half day seminar together with the Vietnamese clients, mainly the clients of the local company Grimaud Vietnam, which is distributing the STAR duck genetic on the local market.

The latest duck management technologies as well as related equipments or duck feed technologies were also introduced during this seminar, for the purpose of development of good quality and profitable duck meat production in the country.

Grimaud Freres Selection is one of the world leaders in duck genetic selection and breeding, thanks to the development of the company over the past 40 years. The company is supplying its duck genetics in all continents to any company producing good quality duck meat, and can assist its clients in terms of duck breeder management with visits by experts to the client's production site or training on site in France. Grimaud Freres Selection is a company of Groupe Grimaud.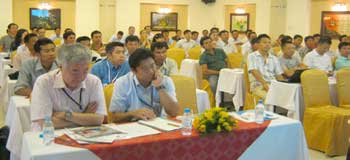 Public during Grimaud seminar in Dong Nai Province in Vietnam on December 7th, 2010.