International Egg and Poultry Review: EU
EU - This is a weekly report by the USDA's Agricultural Marketing Service (AMS), looking at international developments concerning the poultry industry. According to this week's review, EU poultry meat and egg exports have risen.
EU poultry meat exports from January 2010 to September 2010 grew 24 per cent to 897,517 metric tons (MT) carcass weight equivalent (CWE), compared to 726,611 MT for the same period in 2009. Exports increased to Russia (+25 per cent), Hong Kong (+85 per cent), and Benin (+38 per cent). Exports to Ghana are up 45 per cent and have already exceeded the annual total for 2009.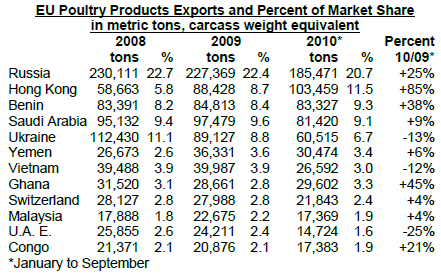 Russia is the EU's major market for poultry meat exports, accounting for 20.7 per cent of exports. For January-September 2010, exports of frozen cuts of chickens grew to 134,831 MT (+45 per cent) from 92,739 MT for the same period in 2009. The largest increases were in halves and quarters (53,836 MT compared to 85 MT the previous year), wings (1,427 MT compared to 726 MT), legs (6,673 MT compared to 73 MT), and other cuts (9,582 MT compared to 2,560 MT.) Turkey meat exports fell 14 per cent during this time.

Exports to Hong Kong grew 85 per cent compared to January-September 2009. Exports of frozen chicken wings totaled 21,684 MT (+59 per cent); frozen legs totaled 12,709 MT compared to 3,948 MT; and other frozen cuts totaled 18,478 MT compared to 7,742 MT. Turkey meat exports rose 60 per cent, to 7,358 MT. Frozen turkey backs and necks accounted for much of the growth and rose 36 per cent to total 3,576 MT.

Exports to Benin increased 38 per cent. Frozen whole chicken totaled 21,593 MT (+95 per cent). Turkey meat exports to Benin totaled 22,656 MT, up 57 per cent. Turkey meat exports were mostly frozen wings (11,311 MT, up 14 per cent).
EU poultry meat imports totaled 578,896 MT for January to September 2010, down 12.3 per cent compared to the same period in 2009. Brazil and Thailand are the major suppliers. Product from Brazil totaled 417,114 MT, down 16 per cent while imports from Thailand grew 3 per cent to 108,297 MT.

January to September 2010 exports of eggs and egg products (tons egg equivalent) totaled 126,224 MT (+10.5 per cent). EU imports of eggs and egg products from third countries reached 26,224 MT (+17.2 per cent).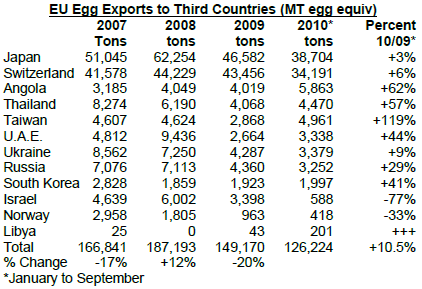 Japan and Switzerland are the two largest markets for eggs and egg products. From January to September 2010, the EU exported 34,191 MT of shell eggs for consumption to Switzerland, up 6 per cent from the previous year. Exports to Japan, which were almost all dried albumin, totaled 38,704 MT, up 3 per cent from a year ago.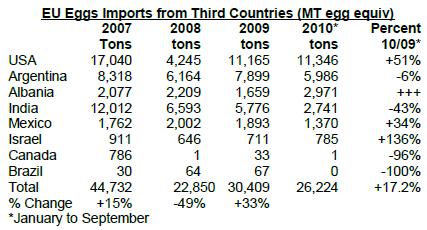 Shell egg imports totaled 3,439 MT for January to September 2010, compared to 1,099 MT for the same period a year ago. Most of the shell eggs for consumption come from Albania, which supplied 2,971 MT of shell eggs, up dramatically from 794 MT in 2009. The USA was the number one source egg products, followed by Argentina and India.

The EU imports mostly dried egg products. Dried yolk imports rose 6 per cent to 4,050 MT: USA +38 per cent (2,404 MT); India +6 per cent (983 MT); Argentina -39 per cent (663 MT). Dried whole eggs totaled 14,307 MT, up 41 per cent: USA +92 per cent (7,755 MT); Argentina +39 per cent (3,781 MT); India -40 per cent (1,758 MT). Imports of dried albumin fell 37 per cent to 3,555 MT: Argentina -40 per cent (1,543 MT); USA -49 per cent (544 MT); India +36 per cent (1,468 MT.)

The EU exports more live chicks and hatching eggs than it imports. Exports totaled 5.84 million chicks (+20 per cent) and 449.82 million hatching eggs (+21 per cent) from January to September 2010. Chick imports nearly doubled (+99 per cent) to 475,000 compared to 239,000 for the same period in 2009, but remain a fraction of the volume exported. Hatching egg imports fell 19 per cent to 31.87 million.

Source: http://circa.europa.eu/Public/irc/agri/pig/library
Further Reading