International Egg and Poultry Review: World
GLOBAL - This is a weekly report by the USDA's Agricultural Marketing Service (AMS), looking at international developments concerning the poultry industry. This week's review looks at global poultry meat production and trade.
World meat production is forecast to grow by 0.8 per cent, according to the November 2010 Food Outlook report by the United Nation's Food and Agriculture Organization (FAO). Reduced animal inventories, high feed costs, and a relatively weak consumer demand will restrain production. Production of poultry is forecast to grow by 2.2 per cent to reach 95.7 million metric tons (MMT); pig meat to grow by one per cent to 107MMT, and beef to decline by one per cent to 65MMT.

World meat trade is forecast to grow by 2.8 per cent in 2010, with strong growth in demand for pig meat, in addition to gains in bovine and poultry meat. Poultry meat is the most widely traded meat; trade in poultry meat is likely to be constrained by sanitary restrictions imposed by major importers, growing by 1.5 per cent in 2010 compared to 3.0 per cent for beef and 5.3 per cent for pig meat. Increased meat purchases from Asian countries are expected to more than compensate for a 15 per cent reduction of imports by Russia, the second largest meat importer in 2009 after China.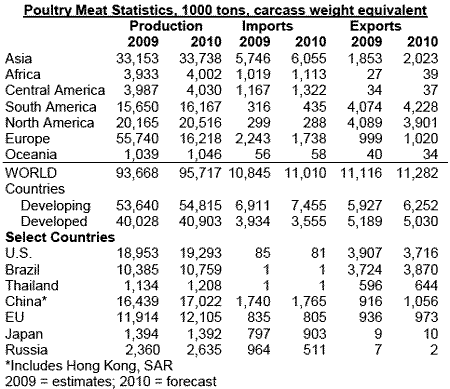 Poultry production is expected to increase 1.8 per cent in the US to 19.3MMT in 2010. Brazil's production has recovered from a fall in 2008 and is set to grow by +3.6 per cent to 10.7MMT in 2010, supported by strong demand from domestic and world markets. This year, poultry producers in the EU benefitted from the high consumer cost of beef and pig meat; poultry production is expected to reach 12.1MMT in the EU, up 1.6 per cent from a year ago.

China's poultry production benefits from a strong domestic demand and is set to grow 3.7 per cent to 16.3MMT. Thailand's six per cent growth to 1.2MMT is mostly supported by exports to Asian countries.

Russian poultry production growth was strong in the first half of 2010, driven by investments in new large poultry processing plants and attractive prices due to an increase in demand and a reduction in imports. A severe summer drought created a tight feed supply and slowed production growth for the second half of 2010. Production is still estimated to grow by 11 per cent to 2.6MMT for the year.

World poultry trade may reach 11.3MMT in 2010, a 1.5 per cent increase over 2009. World poultry prices, measured in US dollars, grew at a slower pace than other meats and are only four per cent higher than last year. This compares to beef (+26 per cent) and pig meat (+30 per cent). The poor performance of poultry has been blamed on the relative abundance of poultry meat for export in the US, following the collapse of the Russian market.
Exports from the US will fall in 2010 but other countries will be able increase shipments to meet the demand. The drop in US exports is mainly due to Russia's prohibition on imported chlorine-treated meats which began in January 2010. Trade was also disrupted by Mainland China's January 2010 imposition of anti-dumping duties, which blocked exports of chicken. While the depreciation of the US dollar against major currencies increased US competitiveness, exports may still drop five per cent to 3.7MMT.

Brazil exports will grow four per cent, to just below 4MMT. Brazil has expanded shipments to Russia and maintained export levels to developing countries. China is anticipated to increase shipments of cooked poultry to European and Asian markets by 30 per cent. Thailand's poultry exports are all cooked; higher demand from Asia is expected raise Thailand's exports by eight per cent to 644,000MT.

Russia is expected to import about 511,000MT of poultry meat in 2010, down 47 per cent from a year ago. Russia's ban on chlorine-treated poultry and reduced preferential tariff quotas were major factors. New legislation prohibiting the use of frozen poultry for processing will go into effect in January 2011. This will negatively affect exporters of frozen poultry, notably Brazil.

Japan, the third largest importer, reduced imports in the first half of the year but began increasing imports in the second half, taking advantage of a stagnation of world prices due to surpluses in the US, and is set to grow 13 per cent for the entire year.

The outlook for poultry trade in 2011 is favourable. A tight supply situation in beef and pig meat should strengthen the demand for cheaper sources of animal proteins, creating favorable conditions for trade expansion.
Source: FAO November 2010 Food Outlook, Global Market Analysis
Further Reading